July 9, 2012
As a memorial tribute to Harvey F. Sullivan, president and chief executive officer of Victoria Hospital from 1986 to 1989, the former Victoria Hospital Foundation established the Harvey F. Sullivan Memorial Scholarship Program. This program is made possible through an endowment fund from the Harvey F. Sullivan Estate.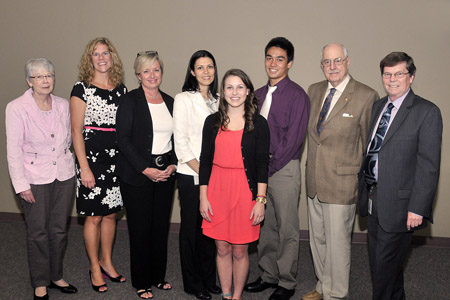 Pictured at the award ceremony (L-R) Dr. Mary Ellen Kirk, Stephanie Luxton, Mrs. Jane Craik,
Nadia Facca, Breanna Ste. Marie, Dominic Shepherd Mohammed, Dr. A.J. Harris and Dr. Robert Lannigan
On June 5, 2012, the scholarship program handed out three scholarship awards to the following recipients:
Employee Scholarship Recipient
Nadia Facca is a pharmacist who has worked at London Health Sciences Centre for seven years. She is pursuing her Master of Health Sciences at Athabasca University with aspirations of taking on advancing leadership roles within LHSC.
Facca's leadership abilities have been demonstrated through her involvement in special projects. She is currently the pharmacy lead at University Hospital for the medication reconciliation initiative. In this role she has been instrumental in creating and refining tools for both corporate and unit specific processes to successfully implement medication reconciliation for every inpatient at LHSC. Her leadership ability is also apparent as she acts as ambassador to the project, promoting the importance of the project and the use of the tools to physicians and staff across the organization. Facca also represented Pharmacy Services for the General Internal Medicine Department for the Kaizen 4-IP discharge project where she helped to streamline the discharge process for patients on this unit.  Another area of passion for Facca is her work as a mentor for pharmacy students.  She has mentored students through the LHSC Residency Program; the University of Toronto Structured Practical Experience Program and Early Practical Experience Program; and the University of Waterloo work term placements. She created a unique position for a pharmacy student in the Preadmission Clinic at University Hospital and has successfully trained and managed two students in this position. Within the community, Facca teaches in the Pharmacy Technician program at Fanshawe College and the Physiotherapy Department at the University of Western Ontario and is also the Secretary on the St. Catherine of Siena School Council. Facca is described as a hardworking, devoted, extremely competent pharmacist who is very passionate about the practice of pharmacy and has earned the respect of all those she works with.
Family Scholarship Recipients
Dominic Shepherd Mohammed is currently enrolled in the Bachelor of Science in Kinesiology program at Western University and aspires to be a sports physician. He is a member of the Scholars' electives program, a prestigious supplementary academic module, where he works on a self-directed research project mentored by a cardiologist at London Health Sciences Centre.
As well he is a member of the Faculty of Health Sciences student council and the power to change program. On student council he is a part of a sub-committee that is creating a video to advertise the unique experience offered by the Faculty of Health Sciences and also assists with many council events throughout the school year. While in high school he was heavily involved in clubs, associations and athletics and won a variety of awards for his academic, athletic and volunteer accomplishments, including the Ontario Principal's Award for Student Leadership given to a graduating student who has shown leadership to the school throughout their four years. Mohammed has a great love of physical activity and dedication to sports, demonstrated by his years of involvement in competitive soccer as a player, coach, camp counselor and volunteer. In addition to his numerous hours volunteering with soccer-related activities Mohammed is also a volunteer at the London Intercommunity Health Centre where he works with youth who are immigrants to Canada. He also mentors and serves as a positive role model to two 13-year old boys as part of the Ethno-Racial Youth Mentorship program. He was nominated by the Rotary Club of London to be the London representative in the "Adventure in Citizenship" program where he spent a week in Ottawa gaining a deeper understanding of Canadian history and politics.  Mohammed is described as a multi-talented young man with an extremely strong work ethic who shows outstanding leadership ability with a balance of firmness, empathy and willingness to help others.
Breanna Ste. Marie will be attending Queen's University in the Bachelor of Nursing Science program and is hoping to work in the field of paediatrics.
She has participated in many school activities including the senior choir and orchestra, swimming, cross country, volleyball, badminton and tennis teams and the student athletic association. She is also the minister of social affairs on the student council and a member of the social justice Ccommittee, the rams of faith, fundraising committee, best buddies committee, prom committee and multicultural awareness committee. Ste. Marie also acted as a peer coach for the Special Olympics, a peer helper for Grade 10 math students and participated in the FIRST robotics international competition. She was nominated by her peers to serve as valedictorian and received several awards for her contributions including the Outstanding Graduate Award and the Lieutenant Governor's Community Service Volunteer Award.  Outside of school, Ste. Marie is a counselor and life guard at Forest Cliff Camp, has canvassed for the Arthritis Society, volunteers with the London Youth for Christ and is a Sunday school teacher at Summerside Community Church. Ste. Marie has participated in two medical mission trips, to Ecuador and Honduras, and from this experience has learned that she truly enjoys helping others and working alongside each patient as part of their recovery team. She states that she discovered that good nursing embraces the whole person and not just what ails them and that for her patient wellness includes bringing a sense of hope to patients for their own healing and restoration. Ste. Marie is described as having a warm and considerate manner, exceptional leadership skills, a strong work ethic and dedicated nature which will prove her successful in any endeavor she undertakes.