August 13, 2012
London Health Sciences Centre's annual NAOSH awards recognize the health and safety initiatives of staff, physicians and leaders. These awards recognize employees and leaders who have visibly demonstrated a deep commitment to health and safety within our organization.
Earlier this year, Kara Ludlow, occupational therapist at University Hospital's plastics and reconstructive surgery department was the recipient of the 2012 Scott Dumaresq Memorial Award.
Ludlow has spent more than four years tirelessly working to determine the impact that using heat guns on thermoplastic materials to create splints, a common practice in occupational therapy, has on patient and staff safety.
Beginning with just a simple question of, "can we recycle these plastic materials?" led her on a complicated quest to uncover the chemical components of the materials and answer the question of whether the resultant fumes were safe for patients, herself and fellow colleagues.
Thanks to her tireless commitment, the practice of using heat guns in this manner was banned at London Health Sciences Centre and in many centres throughout Canada and the US. Her colleagues refer to her as the Erin Brockovich of occupational therapy, as despite many setbacks, delays and even threats, she never gave up on her efforts to find the answers and ensure the safety of her patients, colleagues and by extension hand therapy colleagues across the country.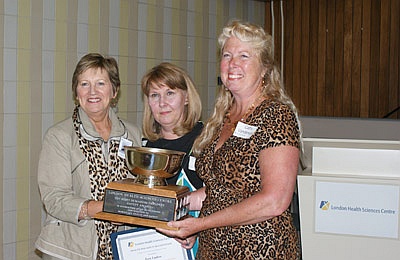 Kara Ludlow (centre) receives the Scott Dumaresq Memorial Award from LHSC President and CEO, Bonnie Adamson (left) and Cathy Vandersluis (right), director, infection safety at LHSC.