August 20, 2012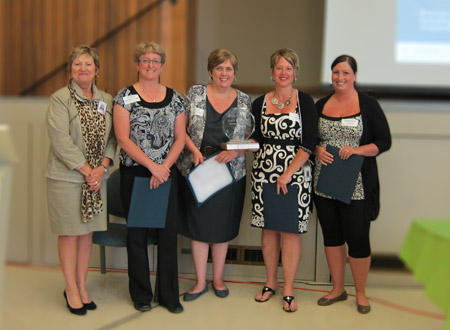 LHSC President and CEO, Bonnie Adamson presents Dawna VanBoxmeer, Linda Downing, Lorinda Hallam and Stephanie Dailey with the Gayle Talaskavich Memorial Award.
London Health Sciences Centre's annual NAOSH awards recognize the health and safety initiatives of staff, physicians and leaders. These awards recognize employees and leaders who have visibly demonstrated a deep commitment to health and safety within our organization.
Earlier this year, a team of individuals from University Hospital's general surgery, plastics and urology departments received the Gayle Talaskavich Memorial Award.
This group of individuals has shown tremendous commitment and dedication in the development of an influencer plan that will maximize hand hygiene compliance for all staff and physicians as well as visitors entering our hospitals.
Using a six source model, they have identified the vital behaviours required to successfully change unfavourable hand hygiene practice. Unique and creative visual aids have been developed and strategically posted on the unit to draw attention to and personalize the message of 200 per cent accountability for all staff – 100 per cent accountability for your own hand hygiene practices and 100 per cent accountability for all others.
The success of this project will not only make it safer for staff and patients by reducing or eliminating nosocomial infections on the unit, but will also help to further the cultural transformation that is currently underway within the organization.
The individuals who collectively won the award are Stephanie Dailey, Linda Downing, Lorinda Hallam and Dawna VanBoxmeer.