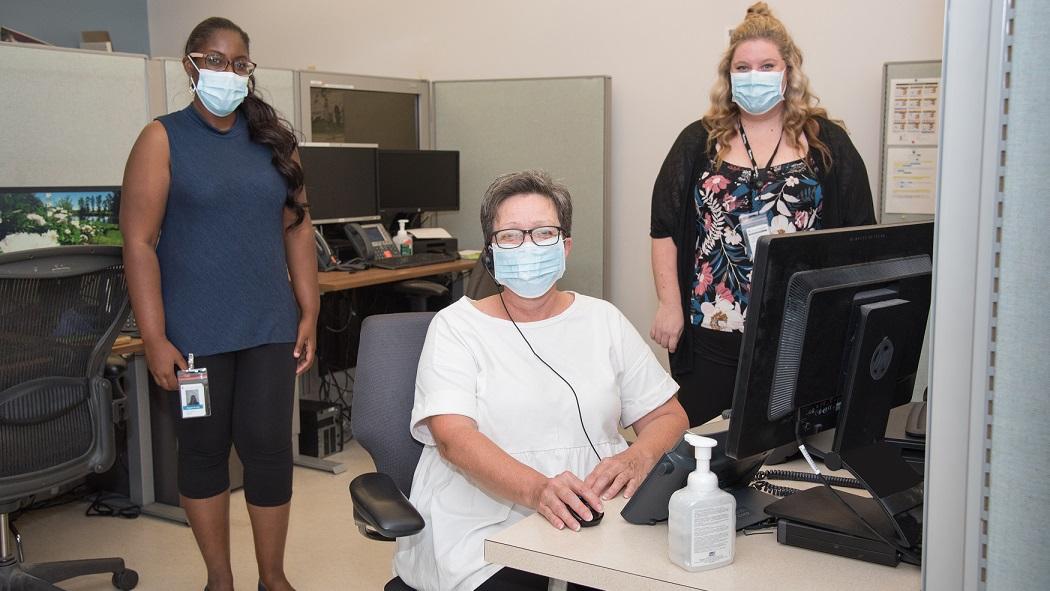 Operators Kate Beavon and Brittany Thompson work in Switchboard along with forms designer Jasmine John to provide support to patients, families and staff.
September 3, 2020
Switchboard operators are frequently the first point of contact for many patients, especially during COVID-19 pandemic
For many patients, families and visitors, their first interaction with London Health Sciences Centre (LHSC) happens before they arrive at the physical buildings. They call Switchboard for information or to be connected with the appropriate department. During the COVID-19 pandemic, this has meant Switchboard is answering many calls and allaying the fears of patients, families and visitors. They are striving to keep up with the most relevant information, even as it changes hourly.
As part of the Support Services portfolio, the Portering and Logistics team includes Switchboard which is comprised of switchboard, linen services, medical photography, visual services, and forms. The switchboard team provides a key service to patients, families, visitors, staff and physicians. Operators are required to complete an Emergency Telecommunications Course and provide support all day, every day. During the height of the pandemic, the team of 22 switchboard operators continued to answer calls. "We do not close," says Kim McIntyre, coordinator of Switchboard.
While the overall call volumes declined due to the cessation of many clinics during the early Spring, the average length of time switchboard operators spent on a call increased as the complexity of the calls increased.
Kathryn Beavon, a switchboard operator for 20 years, recalls how intense the calls were, especially in the beginning. "We were answering calls about people who were potentially COVID-19 positive from travel, concerns about appointments being cancelled, and even people who were wondering if it was safe to come to the Emergency Department," explains Beavon.
McIntyre, details the layers of complexity added to the team. "The requests for information with respect to visitor restrictions was high, the information was changing frequently, and the team was helping patients' families understand how it impacted them." This was on top of the work they do with internal clients such as physicians and nursing staff who were wanting assistance to reach out to on call teams internally and be connected with external facilities on behalf of patients.
Other calls require operators to provide additional support to patients and family members that may need more detailed information, or may need support to ensure their safety. These calls occur infrequently during non-pandemic times as well. Occasionally, switchboard operators connect with 911 operators if it sounds like a caller is in distress, including elderly patients who may have fallen during a call.
Switchboard operators can answer over 100 calls per hour depending upon call volume and the types of support needed. Many of the internal calls operators take are for the emergency code line which is use to dispatch teams around the hospital to respond to different medical and security situations.
For Brittany Thompson, a switchboard operator working with the emergency codes is a large part of what they do. "We help in the code creation process, including Code Intubation which was introduced at the end of April due to COVID-19. Most importantly it's our job to ensure that codes represent our current medical process such as adding the phrase "please donn appropriate PPE" to our overhead pages. This was done as a result of extra precautions needing to be met in regard to the current pandemic," Brittany says.
Beavon is impressed by how the whole hospital has pulled together during this time.
This collaboration is evident when the switchboard operators are working with other departments. "I have the utmost respect for all my colleagues at LHSC who come together and work very hard to come up with solutions for any of the issues we bring forward. The changes are allowing us to continue to do our jobs efficiently and effectively in such a challenging time," explains Beavon.
Switchboard operators are helping ensure patients get the care they need, when and where they need them.