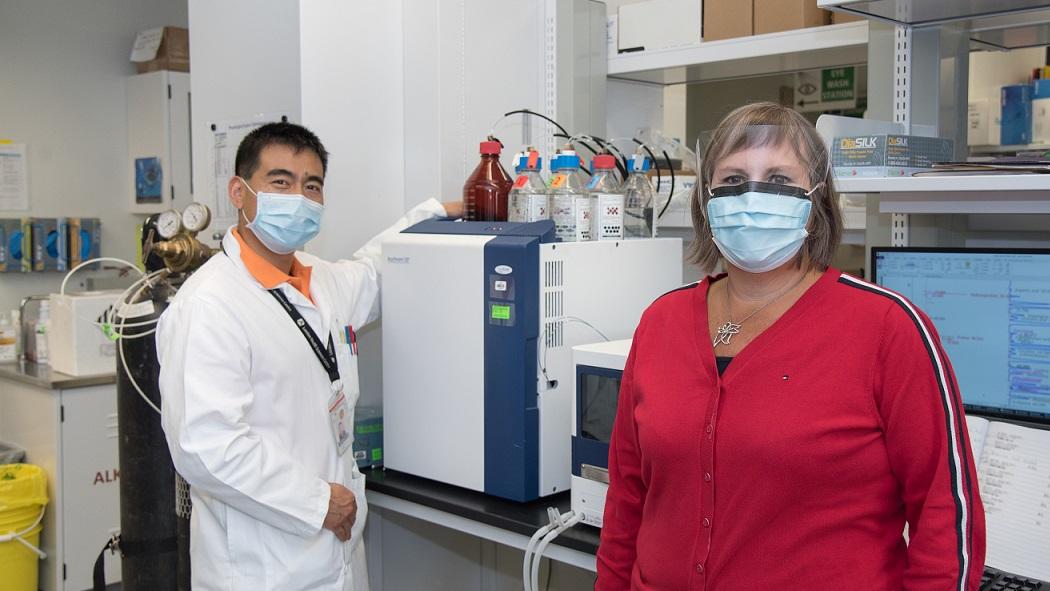 Suzanne Ratko and Lingbing Zhong work together at LHSC to help patients with PKU collect blood at home to monitor their disease.
September 9, 2020
Modifying care for patients with inborn errors of metabolism
For paediatric patients who have Phenylketonuria (PKU), a rare inherited metabolic disease, visits to lab test centres during COVID-19 were not always possible or preferred. Blood analysis is an important component of the disease management for these patients. To meet their needs, Suzanne Ratko, a registered dietician with the Medical Genetics Program of Southwestern Ontario at London Health Sciences Centre (LHSC) worked with Dr. Tony Rupar and staff in the Biochemical Genetics Laboratory to make it possible for patients to take finger prick blood samples at home and mail them to LHSC for testing.
PKU requires the patients to carefully monitor their blood and can result in developmental issues and other neurological problems when treatment is not started within the first few weeks of life. When a very strict diet is begun early and well maintained, affected children can expect normal development and a normal life span.
Typically, patients go to their local hospital or lab to have their blood drawn and then the blood is sent to London for analysis in the LHSC Biochemical Genetics Laboratory. The pandemic made this standard practice more complicated. For various reasons, the majority of patients switched to dried blood spot collection from home. This process was different in that it requires patients to poke their finger and collect blood on a Spot Blood Card made of filter paper. The card was then mailed to Ottawa for analysis because the lab at LHSC was not equipped to analyze filter paper.
As the pandemic continued, the Biochemical Genetics Laboratory staff developed and validated the dried blood dot test within one month. This enabled the lab to not only analyze PKU filter paper samples but also analyze samples from patients with Maple Syrup Urine Disease (MSUD) which no one could do.
Additionally, the test results are available rapidly and are immediately entered into the patients' electronic record.
Some challenges the team faced in creating this process included lancets that did not always work, delays in the mail due to the pandemic, and poor quality specimens. Too little or too much blood may lead to an inaccurate result.
To help patients learn how to properly do the blood dot test, Suzanne Ratko took the time to walk them through the process. She provided education to all families, including children, their parents and other adults, about the whole process of collecting blood at home, mailing the blood dot cards and having them tested. Most of the education was done virtually.
Over 40 patients have switched over to the finger dot blood monitoring. "There were challenges along the way, but it is the victories and bravery of our patients and their families that really impressed me," says Suzanne.
Suzanne, Dr. Rupar and Biochemical Genetics Laboratory staff are working to ensure patients and families get the care that they need, when and where they need it.