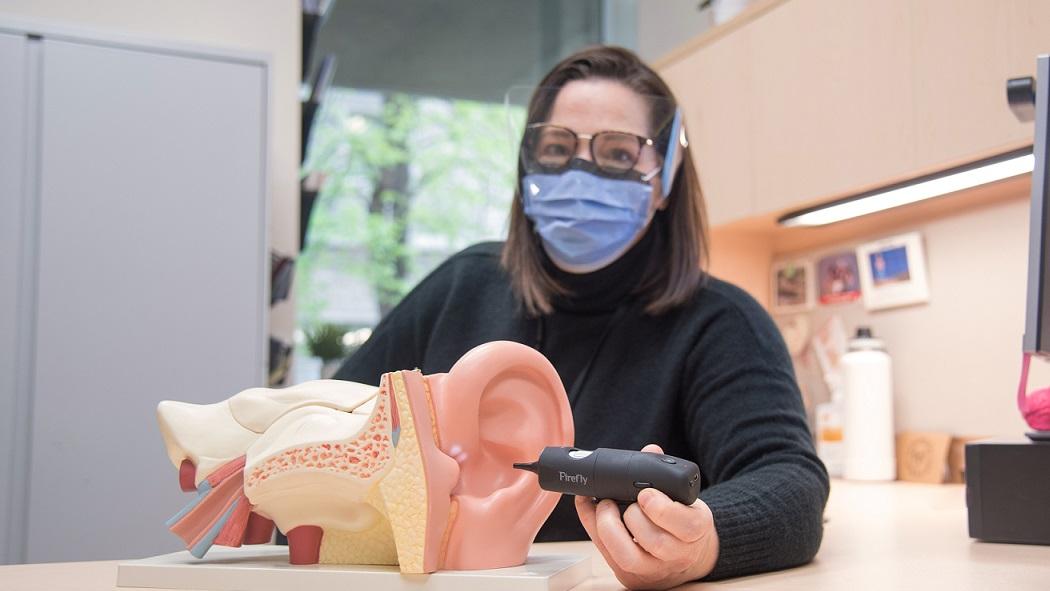 May 21, 2021
The Audiology team at London Health Sciences Centre (LHSC) helps a variety of patients maintain and improve their hearing. The department operates primarily on an outpatient basis and is comprised of 10 audiologists, six at University Hospital and four at Victoria Hospital. The team has continued providing patient care while adapting to the COVID-19 pandemic by changing some of their practices and incorporating technologies that will continue once the pandemic ends.
During the first wave of the pandemic one audiologist remained in clinic at each of the University Hospital and Victoria Hospital sites, focusing on urgent and emergent cases, while the others were redeployed throughout the organization. May is Speech and Hearing month, and as the third wave of the pandemic progresses the challenges the team and their patients have faced have become more pronounced.
Audiologists assist patients from the Ear, Nose and Throat (ENT) clinics, the Cochlear Implant Program and various other departments within LHSC. As with many ambulatory clinics at LHSC, the scope and method of service delivery has changed due to the pandemic. While the majority of routine appointments were postponed, some areas of treatment like those for patients experiencing sudden hearing loss, those requiring monitoring for ototoxicity or having concerns with their cochlear implants required continuation of care.
Kim Zimmerman is an audiologist who has been working in the LHSC Cochlear Implant Program for 23 years. COVID-19 has impacted when and how she provides care to her patients. "Just determining what are urgent and emergent cases has been challenging and something we are constantly evaluating to ensure patients receive the care they need," explains Zimmerman. "The loss of hearing has significant implications for our patients; impacting their ability to communicate with family, friends and in some cases participate at work, potentially affecting their livelihood."
The pandemic has made completing standard audiology testing more challenging, requiring the team to create new ways to provide care. "We've taken a closer look at how we do things, focusing more closely on safety and clinical efficiencies," says Zimmerman. "We anticipate some of the changes made to our clinical practice, like the use of virtual appointments, will continue even after pandemic restrictions are lifted." Completing these appointments virtually has resulted in some unexpected benefits including freeing up clinical testing space and reducing the burden of travel for patients.
Switching to a virtual format has created some other challenges which have required technological solutions. Many cochlear implant appointments require interpretation services for oral language and sign language concurrently. The need for both forms of interpretation in one appointment substantially increases the demand for technology. Appointments that previously required the use of one computer now require the use of three separate devices: a programming computer, a computer for language interpretation, and a laptop or iPad the patient carries into and out of the testing booth enabling continual access to the sign language interpreter.
For in-person appointments, the COVID-19 infection prevention and control protocols have necessitated changes to best practices. Part of a routine hearing assessment requires examination of the ear canals and ear drums using an otoscope. Completing this task poses increased risk of transmission as it necessitates the audiologist being in close proximity to the patient's face. Also, the requirement of eye protection has made completing this task more complicated. To overcome these concerns, the department purchased three video otoscopes which project an image of the eardrum onto a computer screen, allowing the audiologist to adjust brightness and resolution to optimize visualization.
The pandemic has required audiologists to adapt quickly to a changing landscape. "There is a sense of unease around the potential for change at any moment. You never really feel like you have both feet solidly on the ground," Zimmerman says. In spite of the uncertainty, the Audiology team at the LHSC has been resilient; adapting their practice by incorporating new protocols and technologies in order to ensure their patients continue to receive the best care possible.