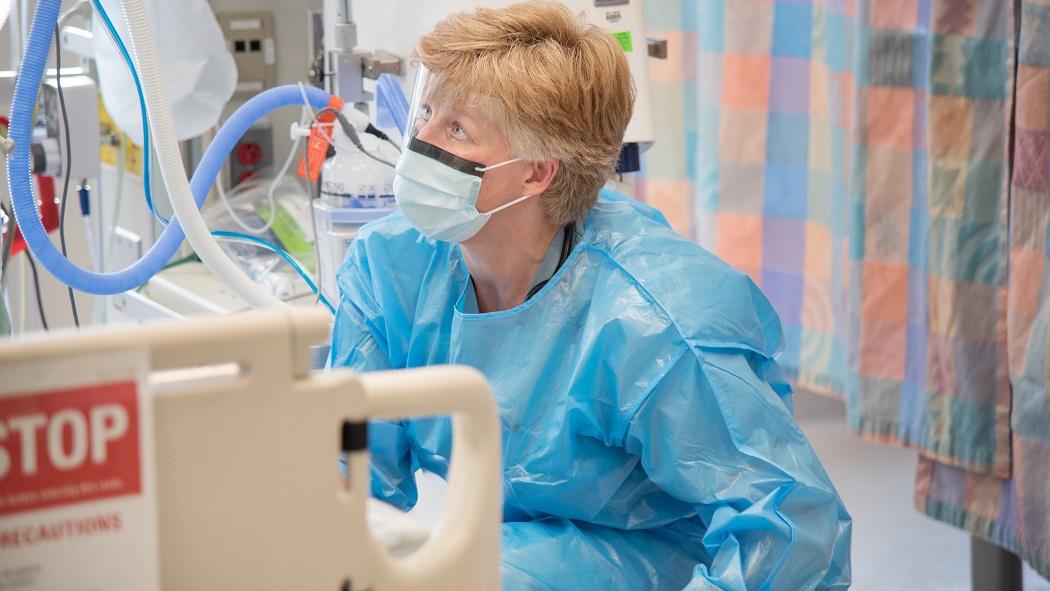 Johanna Fraser, a physiotherapist in the ICU helps COVID-19 patients regain their strength.
September 23, 2020
At London Health Sciences Centre (LHSC) physiotherapists work in many departments, including the Critical Care Trauma Centre (CCTC) and Intensive Care Units (ICU). The goals of care for physiotherapists working in acute care center around two main goals, helping patients move and helping patients breathe. The work they did during the peak of the COVID-19 pandemic was no different, continuing to help patients get the care they need when and where they need it.
"Helping patients maintain strength and mobility while in hospital is important for them being able to ambulate and resume activities of daily living after discharge," says Tania Larsen, manager of Physiotherapy. Physiotherapists work throughout LHSC including in the departments of medicine, clinical neurosciences, oncology, respirology, many surgical units and with outpatients. For inpatients especially, early mobility while in hospital reduces length of stay and improves patient outcomes.
"Physiotherapists work with patients to optimize physical performance after illness and injury," explains Larsen. In the CCTC and ICU, Physiotherapists provide early mobility and exercise for critically ill patients to help prevent functional decline while in hospital by strengthening muscles, including muscles used for breathing and coughing.
When a patient is admitted to the CCTC or ICU, they are at risk of losing strength and possibly developing lung complications such as pneumonia, especially if they have been ventilated. "On average, you lose four per cent of quadricep strength for every day you are in an ICU bed," says Johanna Fraser, physiotherapist with LHSC for 30 years. "We try to help them maintain and build strength while they're in the ICU. The rationale is that if they leave the ICU in a weakened state, it increases their length of stay, they have decreased function and independence which increases their risk of falls."
Physiotherapists also help take care of the lungs in patients who have a build-up of secretions in their airways, this happens especially in patients with weak coughs or who develop chest infections like pneumonia after being ventilated. They use various techniques including chest percussions, deep breathing exercises, assisted cough techniques and tracheal suctioning to help break up and clear secretions.
For Fraser, the early months of the pandemic was the most stressful. "We didn't know what we were going to see or how to respond. As time has gone on, it's gotten much easier. More is being learnt about the disease and how to treat patients," she explains.
Patients with COVID-19 can experience secretion retention and require assistance clearing secretions. They may also develop ventilator associated pneumonia, strokes and profound weakness among other secondary conditions resulting from COVID-19, and can require physiotherapy to be engaged in their care. Most commonly, physiotherapists are helping patients with COVID-19 mobilize, and regain strength and mobility.
"We have to keep them moving, rehabilitating them and working with their shortness of breath. This means getting them stronger for when they leave ICU," Fraser says.
During COVID-19, physiotherapists were required to quickly switch to a virtual platform like Webex for the majority of their outpatient appointments. A large number of patients were still considered urgent and emergent during the early months of the pandemic, and still required regular care. The outpatient physiotherapy services receive well over 4,500 referrals per year to help manage care for LHSC patients. The majority of the outpatient physiotherapy services provided at LHSC are for unique specialties not easily accessed in the community.
"The therapists were quick to be able to adapt to provide the service and both therapist and patients seem to be doing quite well with this change," Larsen says. The department is looking to gauge the patient experience and plans to continue virtual visits where appropriate.
Physiotherapists at LHSC play a key role in a patient's journey to help reduce their length of stay in the hospital and lead to better patient outcomes.