June 13, 2014
Each year London Health Sciences Centre uses almost 23,000 units of red blood cells, 12,000 units of plasma, and 5,000 bags of platelets to care for patients. We are a top-three user of blood product in Ontario and the fifth heaviest user in Canada.
How blood donation works in 6 easy steps!
1)   Blood donor arrives for their appointment has their iron level checked and completes the pre-screen interview.
2)   Blood donor is prepped for donation, gets needle inserted (it doesn't hurt too much!) and CBS staff collect tubes of blood for screening of infectious disease.
3)   Blood donor then waits for their donation to complete, which could take between 15-40 minutes for whole blood and one hour for plasma.
4)   Once finished, the blood donor enjoys the best part: free cookies! (And the feeling that they've done something positive!)
5)   After donating, a manufacturing process divides the unit of whole blood into components – red blood cells, plasma and platelets — and each unit is sent to Brampton for processing.
The blood product is distributed across Canada – from the time of donation this happens within 24 hours.  
June 14 marks World Blood Donor Day and as health-care providers, we encounter patients and situations every day that prove the importance of blood donations. That is why LHSC is a proud member of Canadian Blood Services' Partners for Life program, through which LHSC staff and physicians are encouraged to donate blood on a regular basis.
Patients experiencing critical care trauma, cancer, and major cardiac and orthopedic surgery—all of which occur regularly at LHSC—are in need of large amounts of blood product.
"Unfortunately, blood product has a limited shelf life, which makes collection from blood donors necessary," says Dr. Ian Chin-Yee, a hematologist in charge of the blood transfusion lab at LHSC.  Plasma can be frozen for up to one year, red blood cells can be kept for 42 days, and platelets last for just five days.
Canadian Blood Services only has enough product for the next five-to-seven days at any time. In fact, Dr. Chin-Yee suggests the biggest misconception about blood donation is that there is always lots of blood available. The supply is constantly in need of replenishment as there is a very real risk the blood supply could run out, especially during summer months when many blood donors go on vacation, and trauma incidents are more prevalent.
 "Blood products need to be collected constantly to keep up with the need. We are never very far ahead," says Dr. Chin-Yee.
LHSC has many programs to promote blood conservation, including screening patient blood for hemoglobin levels in the pre-admit clinic, and using blood judiciously and when appropriate. In the practice of patient care, each year Victoria Hospital uses 14,354 red blood cell units and University Hospital uses 8,339 RBC units. It takes about the same number of donations to replace that supply.
"Donating blood is separate from the great care staff provide every day. Being a blood donor is doing your part as a citizen; it's voluntary to help people," says Dr. Chin-Yee.
To help ensure the blood supply remains stable during the summer, in June and July LHSC is participating in Canadian Blood Services' 4th annual Hospital Challenge, competing against all hospitals from Windsor to Owen Sound, Toronto and Niagara, to donate the most number of blood units. Each hospital's tally will be tracked through Partners for Life donations.
To become a blood donor, make an appointment with Canadian Blood Services by calling 888-2-DONATE or visit them online. Friends and family members of LHSC staff are also eligible to donate as an LHSC Partners for Life member – just let them know you'd like to register the next time you donate!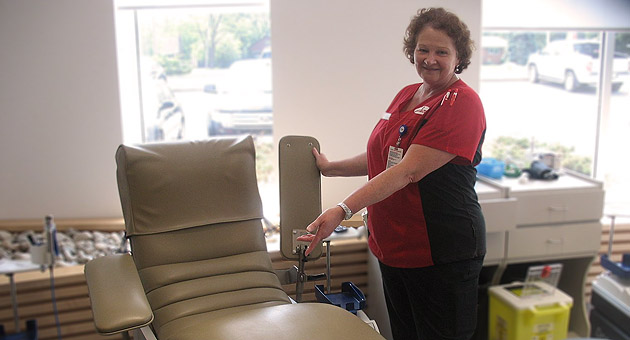 Joanne, a phlebotomist at Canadian Blood Services, is waiting for you to roll up your sleeve and visit a blood donor clinic today!