April 17, 2013
While attending her granddaughter's wedding in 2012, Mrs. Fehr, 87, experienced a stroke that resulted in a seven-week hospital stay. With a strong desire that she be able to return home upon discharge, team members from London Health Science Centre LHSC) and the South West Community Care Access Centre (SW CCAC) worked together early in Mrs. Fehr's hospital stay to develop a discharge plan that would enable her to return to her apartment that she shares with her daughter.
Thanks to Home First – a collaborative program of the SW CCAC and LHSC, together with the South West Local Health Integration Network (South West LHIN) and other hospital and community partners, many hospitalized seniors and adults with complex needs can return home rather than being discharged to long-term care (LTC). 
Initially Mrs. Fehr had planned to move to long-term care but both she and her daughter wanted to be certain that long-term care was the right choice for her once she had had an opportunity to recuperate at home. Since returning home, Mrs. Fehr and her daughter have decided to delay her application to long-term care and will remain at home until she decides the time is right for her.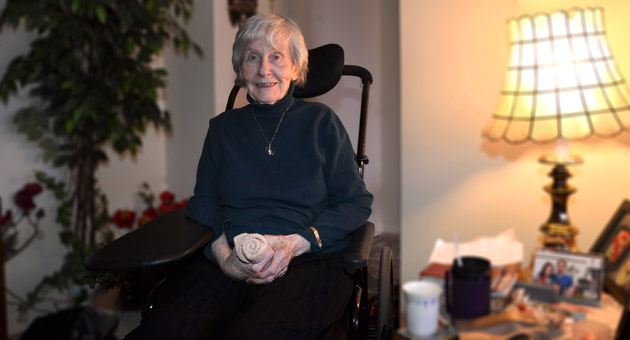 Home First is a province-wide priority established by the LHINs to bring system partners together. Home First promotes a cultural shift towards proactive discharge planning with home as the primary discharge destination. Working together, patients, family members, physicians, hospital staff and the CCAC care coordinator can develop a care plan that best suits the patient's needs in the home, and in many cases, prevent the need for transition to long term care. 
Had Mrs. Fehr experienced her stroke one year earlier, she would have gone directly from hospital to long-term care, but today, because of Home First, she is able to remain in her home until she decides it is time to move.
Read more about Mrs. Fehr's story and Home First in the April issue of Hospital News (browse to page 16).