July 31, 2012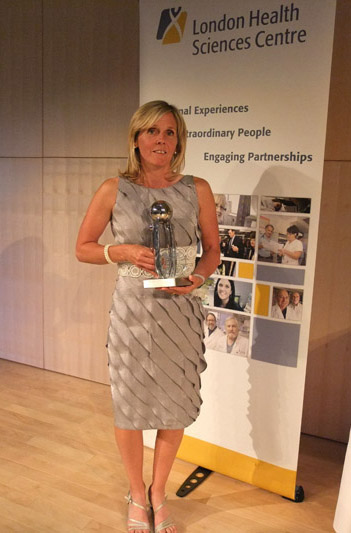 Susan Rosato, fitness program lead at London Health Sciences Centre, knows firsthand that ideas can become reality.
Her idea to create a fitness program that would meet the unique needs and challenges of people who complete shift work would result in an extremely robust wellness offering that has been heralded by staff and physicians and recognized by organizations across North America. The creation and success of this program would also merit personal success for Rosato as the 2012 recipient of the President's Award for Innovation. The award recognizes an individual that demonstrates a passion for innovation to address and advance one or more of LHSC's innovation objectives.
"If you had asked me at the outset if I could imagine the program would be where it is today, I would've never thought it would be possible," says Rosato. "Winning the President's Award for Innovation really affirmed for me the belief that anything is possible. When you're truly passionate about something and you work hard, it can happen."
What makes LHSC's fitness program innovative and unique is really threefold.
Recognizing the challenges that shift work presents, Rosato and her team try to be really creative in their onsite offerings so that a variety of staff are able to participate – whether it's a noon-hour group exercise class, an afternoon outdoor boot-camp or an evening couch-to-5k running group, there's something that will work for everyone.

The concept of "we come to you" also sets LHSC's fitness program apart from other workplace offerings. For those who can't join in the pre-scheduled activities and classes, the program offers in-unit stretch-breaks, removing travel time for those looking for a wellness break in their day.

The team of fitness instructors and personal trainers are encouraging and supportive, fostering a nice, safe, welcoming environment for people of all fitness levels.
While Rosato is incredibly proud of the program she's created, she is equally humble and quick to share the success with her team.
 "Although it's my name on the trophy, it really represents the work of all of the many people who spent time and energy to help develop and grow the program. Without their effort and support, we wouldn't have the innovative program we have today and I certainly wouldn't have been recognized among the many extraordinary people who were also nominated."
 When asked what the win has meant to her, Rosato simply stated, "Not only is it an amazing honour, but it is a highlight in both my career and my life to be given such an incredible award. I'm so grateful and I can't wait to see what can be accomplished next."