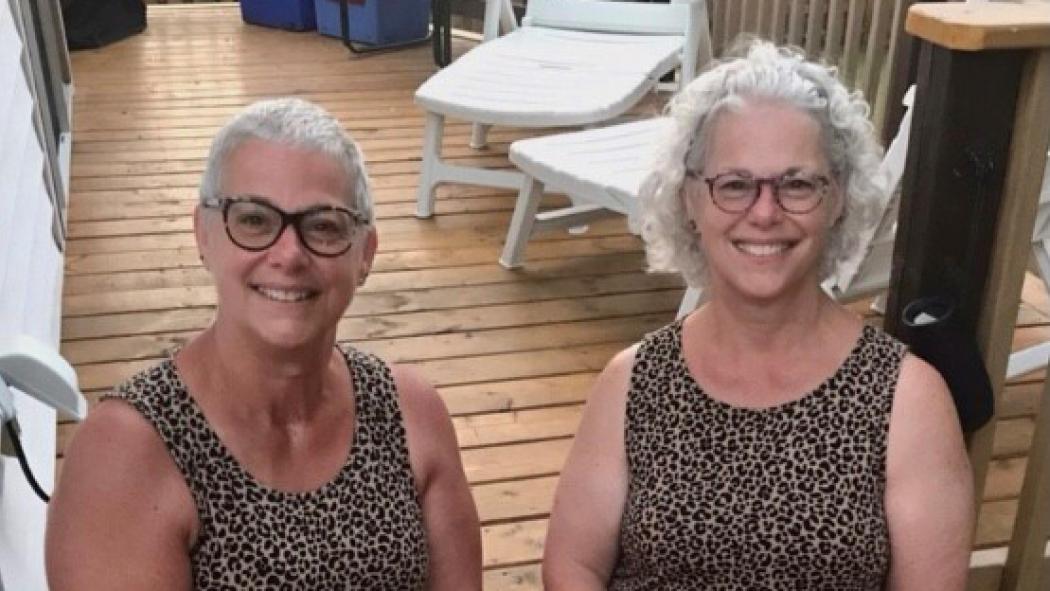 Retiring identical twins, Denise Lewis (left) and Debbie Vanderheyden (right), share a DNA and a passion for their patients
November 29, 2021
London Health Sciences Centre (LHSC) has benefited from the dedication of identical twins Denise Lewis, an audiologist, and Debbie Vanderheyden, a psychologist, who are retiring in December after more than a half-century of combined service to patients. Both work in Health Disciplines, but they have experienced different paths to LHSC.
Lewis began as an audiologist at a private practice clinic in 1986. She worked there for four years prior to LHSC. While waiting at the airport on her way to an American Speech Language Hearing Association (ASHA) conference, she met an audiologist named Marjorie Wheeler-Leff from LHSC's Victoria Hospital. Following that fateful meeting, the late Wheeler-Leff asked Lewis if she would be interested in applying for Wheeler-Leff's position. "One day, she gave me a call and asked me, 'How would you like to work for LHSC?'" Lewis says.
Although initially reluctant to work with paediatric patients, Lewis decided to apply for the position and began her new position at LHSC in October 1990.
Her sister, Vanderheyden, however started her career at LHSC eleven years later in October 2001. Vanderheyden applied for a psychologist position with the Eating Disorders Program when it opened having completed her Masters and Ph.D. in eating disorders and writing her dissertation on body image. She knew she wanted to continue treating patients with eating disorders as a psychologist once she graduated.
When the sisters found out they would be working for the same organization, and at Victoria Hospital, they were ecstatic. They have always been close and previously had to drive across town to see each other. "It's been a blessing and a treasure to have that opportunity," Vanderheyden says. Since 2001, they made the effort to have lunch together daily. When the COVID-19 pandemic began, they kept this tradition by making it virtual.
Besides the bonus of working together for LHSC, Lewis and Vanderheyden evolved as skilled professionals under their many respective mentors at the hospital. While Lewis appreciated some extra support when she started in order to feel more comfortable, Vanderheyden needed an extra year under the supervision of a mentor to be able to declare competence in working with children and adolescents. Despite her initial hesitation in working with paediatric patients, Lewis grew to enjoy working with younger patients after she teamed up with a colleague who helped her gain the experience she needed. Similarly, Vanderheyden also came to love working with children and adolescents and their families as it gave her an opportunity to make a difference early in their lives.
Now, Lewis and Vanderheyden are the mentors for their new colleagues and have formed relationships with their respective teams, whom they will miss when they retire in December. Lewis says, "It feels really good that I can do great work and help my patients. I know my colleagues recognize I do a good job and I'll miss those once I leave." In addition to their DNA, the twins share a passion of working with great teams and making a difference to others, things for which they credit their colleagues and the privilege of working at LHSC.
The day may be coming closer when Lewis and Vanderheyden have to say farewell to their colleagues and patients at LHSC, but they continue to carry the lessons they have learned throughout their time at the hospital. For Lewis, this was learning the value of treating every person equally with respect and working as a team. For Vanderheyden, the implementation of the cognitive behavioural model she learned as a psychologist in her daily life, and teaching her patients and their families about acceptance and avoiding moral judgments is what has remained with her.
While they both feel there will be a loss of their professional identity once they retire, their desire to help others and make a difference from their decades of service at the hospital will remain to inspire others.
Lewis and Vanderheyden will be leaving the hospital a week apart. While they may have different plans for their retirement, both share the importance of being with their families, including their mother.