The CSRT role positively impacts access to services, wait times, and the patient experience
April 30, 2012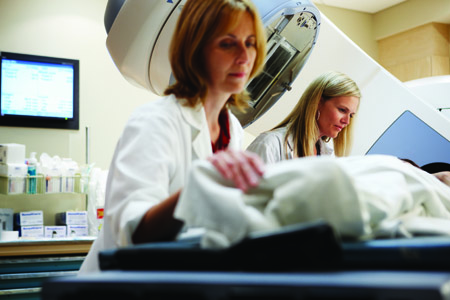 The need for innovative and responsive health care delivery models in radiation treatment programs has never been stronger and Clinical Specialist Radiation Therapists (CSRTs) are new and proven health care providers that can respond to these needs. Cancer Care Ontario (CCO), in collaboration with the Ministry of Health and Long-Term Care (MOHLTC), developed the CSRT role as an innovative solution to the many pressures facing contemporary radiation therapy practice.
The CSRT is a registered medical radiation technologist in the specialty of radiation therapy, who brings advanced clinical, technical and professional radiation therapy and academic competence to the existing inter-professional healthcare team.
CSRT Pilot Program
CCO implemented the CSRT initiative through a series of Developmental and Demonstration Projects between 2004 and 2010. During this period, CSRTs in pilot positions began building an evidence base, documenting the many positive impacts the role had on their particular programs, partners and patients.  The initial phase showed that CSRTs enhance access to care by employing advanced competencies built on existing expert radiation therapy practice. This allows for the sharing of specific tasks traditionally undertaken by radiation oncologists and other healthcare providers. In addition, improved access to services is also facilitated within cancer programs through service innovations and improvements that CSRTs are able to identify and act upon.
"With cancer on the rise, healthcare teams face increasing challenges to the delivery of timely, quality radiation therapy to patients across Ontario," said Dr. Carol Sawka, Vice President, Clinical Programs & Quality Initiatives, CCO. "CSRTs help to ease this challenge by contributing to the provision of high quality, cost-effective radiation therapy, allowing radiation oncologists to focus on more complex patients and clinical issues."
Sustainability of the CSRT Role
Based on the successes of the Developmental and Demonstration Projects of the CSRT initiative, the MOHLTC provided funding for a three-year sustainability period, from 2010/11 to 2012/13, to facilitate the permanent integration of the CSRT role into the cancer care team. Funding for this initiative includes support for the existing CSRT positions in several cancer centres with a goal of having up to 20 CSRTs permanently placed in regional cancer centres across the province. As part of the sustainability initiative and through a recent Request for Proposal (RFP) process, 7 new CSRT positions will receive funding support for one year from July 1, 2012 to June 30, 2013.
The 7 new CSRT positions will be placed in the following centres: 
Brachytherapy CSRT – Odette Cancer Centre
Brachytherapy CSRT – Princess Margaret Hospital
Breast CSRT – Juravinski Cancer Centre

Palliative Care CSRT – Carlo Fidani Peel Regional Cancer Centre

Radiation Therapy Planning Image Definition and Contouring CSRT – London Regional Cancer Program, London Health Sciences Centre
Stereotactic Body Radiation Therapy CSRT – Odette Cancer Centre
Thoracic High Dose Rate Brachytherapy CSRT – Juravinski Cancer Centre
RFP for Remaining Vacancies
Funding support will also be available for 2 additional vacancies and will be awarded through a second RFP, with a deadline of May 4, 2012.
This is an exciting, novel opportunity for radiation therapists and cancer centres to be at the forefront of the development and implementation of innovative models of care.  Evidence shows that both patients and team members value these high-performing members of the inter-professional healthcare team. CSRTs contribute to the provision of high quality, cost-effective treatment, improving patient care while building capacity, increasing access to  radiation therapy and serving as leaders in the advancement of radiation therapy research.
For more information on the CSRT initiative, please visit www.ontarioradiationtherapy.ca and for further information about the current RFP, please email Nicole.Harnett@rmp.uhn.on or Elizabeth.Lockhart@cancercare.on.ca.