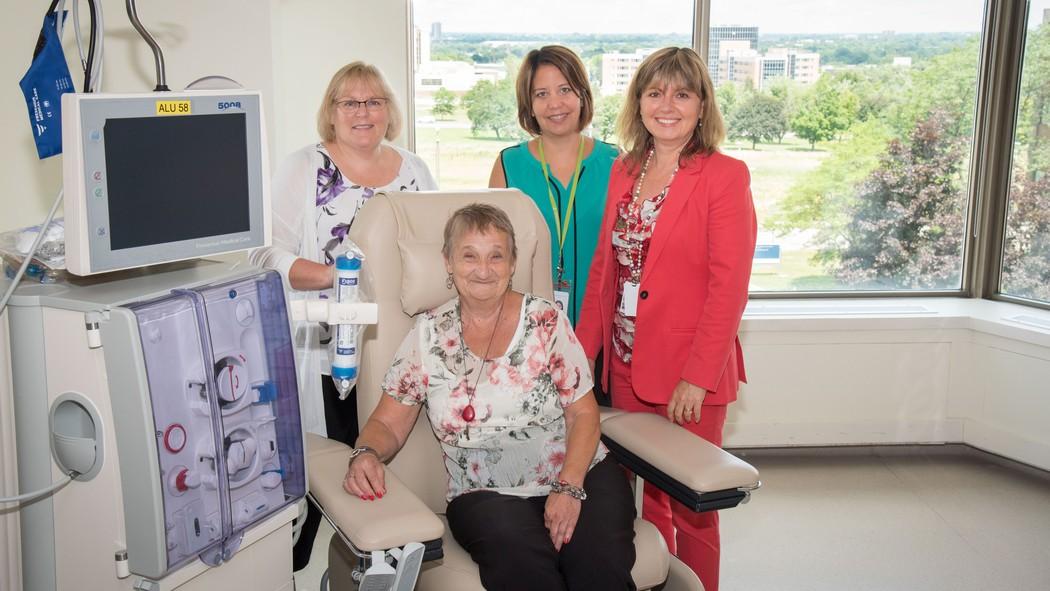 Patient and family advisor, Betty Clinton, sitting in a dialysis chair at Parkwood, worked with (from left) Lori Harwood, April Mullen and Julie Gilvsey (Parkwood).
August 8, 2019
LHSC is focused on incorporating the patient voice into various aspects of our operations. When collaboration with St. Joseph's Health Care London (St. Joseph's) began on opening a hemodialysis unit at the Parkwood Institute site for medically stable rehabilitation and complex care inpatients, Betty Clinton, a patient and family advisor with LHSC's Renal Program was asked to provide insight.
Hemodialysis is the process of cleaning a patient's blood who is suffering from kidney disease or failure. Renal patients need dialysis for four hours at a time, on average three times per week. The trek from Parkwood to LHSC three times a week can be long and tiring for patients.
Betty knew first-hand this can have a toll. Betty's son, David, was a patient at Parkwood who needed to be transported to LHSC three times a week for his dialysis.
At 16, David suffered a brain injury and eventually developed diabetes, renal failure and underwent amputations. David spent many years receiving care at St. Joseph's Hospital, Parkwood, LHSC's University Hospital, and South Street. Eventually, David required amputations, both to his legs and then his arms. While the amputations were done at Victoria, he went to Parkwood for his rehabilitation. During his rehab at Parkwood, he still required dialysis and was transported to Victoria Hospital three times a week. Betty was with him for every transport and treatment.
Betty recalls the pain and discomfort her son experienced during those trips and the impact on his well-being. David missed suppers, had late nights, and "then you have to get up early in the morning to do physiotherapy. You're cranky and harder to work with." This was when Betty started asking why it couldn't be done on-site.
As exemplified in David's case, co-ordination and collaboration has happened throughout the patient's journey surrounding the transitions and management of care between the two organizations for many years. But the collaboration and cooperation was taken to a new level in early 2017 when the Renal Program and Parkwood leadership started exploring the opportunity to provide rehab patients with hemodialysis on site. It was enhanced with the involvement of the patient and family advisor, Betty.
David passed away about four years ago; shortly thereafter Betty joined LHSC's Patient and Family Advisory Council for the Renal Program. When discussions started to happen about offering hemodialysis at Parkwood, Betty was asked to join the working group. "I was always included as part of the team, not a token. They included me in meetings, emails and tours when they were on the floor looking at the site before construction began. I was always a part of everything."
Betty's recommendations included a wheel-chair accessible weigh scale, comfortable chairs for patients and proper lifting equipment over the beds. She is so grateful "the team listened." The involvement and engagement of Betty is proof that patient and family advisors can have a positive influence on how LHSC delivers care to patients.
LHSC's Renal Program Director, April Mullen, and a nurse practitioner, Lori Harwood, along with Julie Gilvesy, Project Leader at Parkwood presented the development and implementation of the hemodialysis unit with Betty at the Johns Hopkins Medicine 8th International Conference on Patient- and Family-Centered Care in Baltimore, MD in June 2018. A component of this presentation focused on how to fully embed a patient and family advisor in the process.
Betty credits the staff at both Victoria Hospital and Parkwood for the success of this project. "Without their hard work and dedication, I don't think I would've seen this project come to light," Betty states.
This proof of concept service is exemplary of the improved quality of care that can happen through collaboration and cooperation between organizations and especially with patients and their families.