April 13, 2012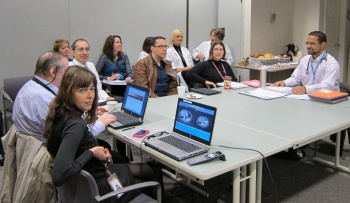 Pictured: a multidisciplinary cancer conference for gastrointestinal cancers in progress
April is national cancer awareness month. While prevention and early detection are often hailed during this month, what happens after a diagnosis of cancer is also of critical importance. Increasing evidence finds the use of multidisciplinary cancer conferences (MCCs) contributes to improved patient outcomes. To better deliver and expand the practice of MCCs for cancer patients, London Health Sciences Centre (LHSC) is undertaking a technology improvement initiative.
MCCs are regularly scheduled meetings where healthcare providers from different medical specialties discuss the diagnosis and treatment of individual cancer patients. Each area of cancer has its own MCC process. The MCCs, or "tumour boards" as they are commonly referred to, at LHSC's London Regional Cancer Program (LRCP) generally consist of multiple radiation oncologists, medical oncologists, surgeons, pathologists and radiologists, with occasional participation from other specialties as needed.
"There are many different medical disciplines that contribute information regarding evidence-based treatment for each type of cancer," says Dr. Barbara Fisher, radiation oncologist at LRCP. "One of the main benefits of MCC is that when you present a case, each person at the table offers a unique perspective and expert opinion on treatment options, which may or may not have been the options or approaches you would have considered on your own. It's like an automatic second, third and fourth opinion for a patient."
Participation on MCCs is voluntary and conflicting work schedules, multi-site facilities and physical distance between regional partners are often barriers to the MCC process.
With the support of grant funding from Cancer Care Ontario, a technology improvement project group from the LRCP and South West Regional Cancer Program at LHSC will source, select and implement a solution that reduces identified barriers and improves accessibility of MCCs for both care providers and patients. The project group is comprised of physicians as well as representatives from information technology services, clinical support services and leadership.
 "Our technology improvement project group is working to find and implement a solution that will make it easier for MCC participation," says Jane Montgomery, program specialist, SW Regional Cancer Program and project lead. "We're starting in the areas of colorectal and lung cancer at LHSC, but our ultimate goal is to roll out the selected technology to MCCs for all cancer types, so that every cancer patient receiving care in the region will have access to this important consultative review process regardless of their surgery location."
At present, only the most complex cases are selected for presentation at an MCC. Improvements in technology that provide better access and flexibility for case reviews will help the LRCP and all cancer care providers in the South West LHIN meet Cancer Care Ontario's goal where by 2015 every cancer patient, regardless of location, will have the opportunity for their case to be reviewed by an MCC.