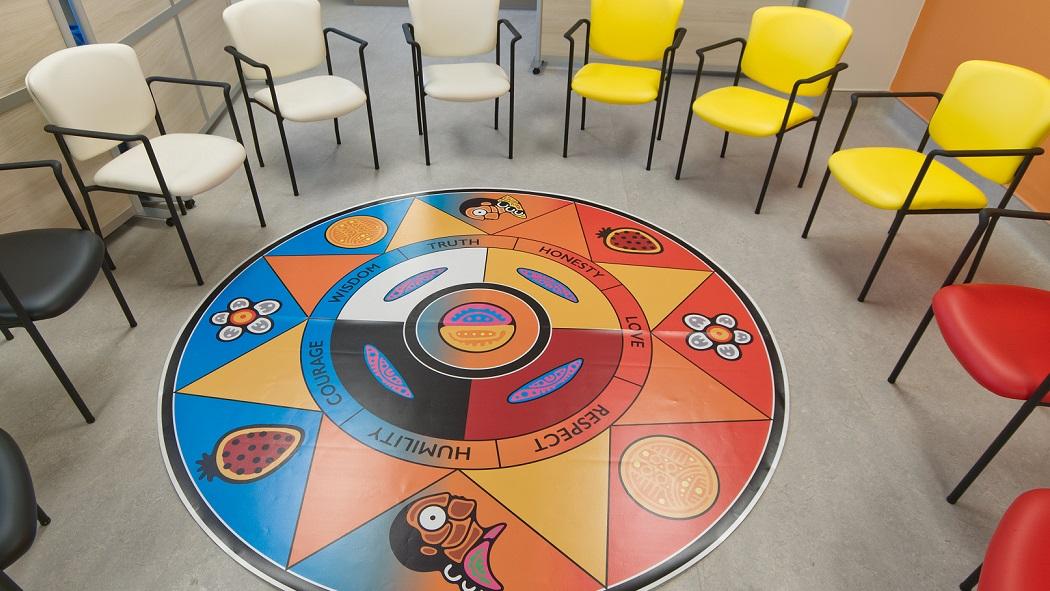 November 5, 2020
A space to ensure the Indigenous patient population receives culturally specific and appropriate care
In partnership with Atlohsa Family Healing Services (Atlohsa), LHSC is pleased to announce the opening of an Indigenous Healing Space at Victoria Hospital that seeks to improve the experience and quality of care that Indigenous patients and families receive at LHSC.
LHSC has entrusted Atlohsa to help us define how we should engage our Indigenous community partners in providing culturally safe care, enable traditional healing and ceremony, and continue the path of reconciliation between LHSC, its staff and physicians, and Indigenous Peoples. Over the summer, LHSC began working with Atlohsa to develop a comprehensive healing strategy including the Indigenous Healing Space and Indigenous Healing Services Advisor.
Located off the E1 lobby at Victoria Hospital, this new space is easily recognizable by the magnificent Indigenous mural titled Ka-Bzindaadmin (Voice to Voice) created by Tsista Kennedy, an 18-year-old, self-taught Indigenous artist from Beausoleil First Nation, and Oneida Nation of the Thames. This space was designed to function as a bridge that will help Indigenous patients to overcome barriers in seeking treatment. It will bring together traditional medicine and western medicine along with creating a safe space to practice Indigenous tradition and culture.
The Indigenous Healing Space is a direct response to two of the Truth and Reconciliation Commission of Canada: Calls to Action under health care, "to address the physical, mental, emotional, and spiritual harms caused by residential schools," by recognizing "the value of Aboriginal healing practices and use them in the treatment of Aboriginal patients in collaboration with Aboriginal healers and Elders, where requested by Aboriginal patients."
An important aspect of the strategy and this space is to ensure it is staffed by someone who identifies as an Indigenous person, with whom they can identify and build a trusting relationship. Michelle Nahdee will provide this service to LHSC, joining the organization as Indigenous Healing Service Advisor. She will be collaborating with community members from local First Nations, Métis and Inuit communities, and the city of London, to ensure the diverse voices of Indigenous Peoples are incorporated into the Indigenous Healing Strategy to meet their needs at LHSC.
For more information about the Indigneous Healing Strategy or accessing the Indigenous Healing Space visit the website.