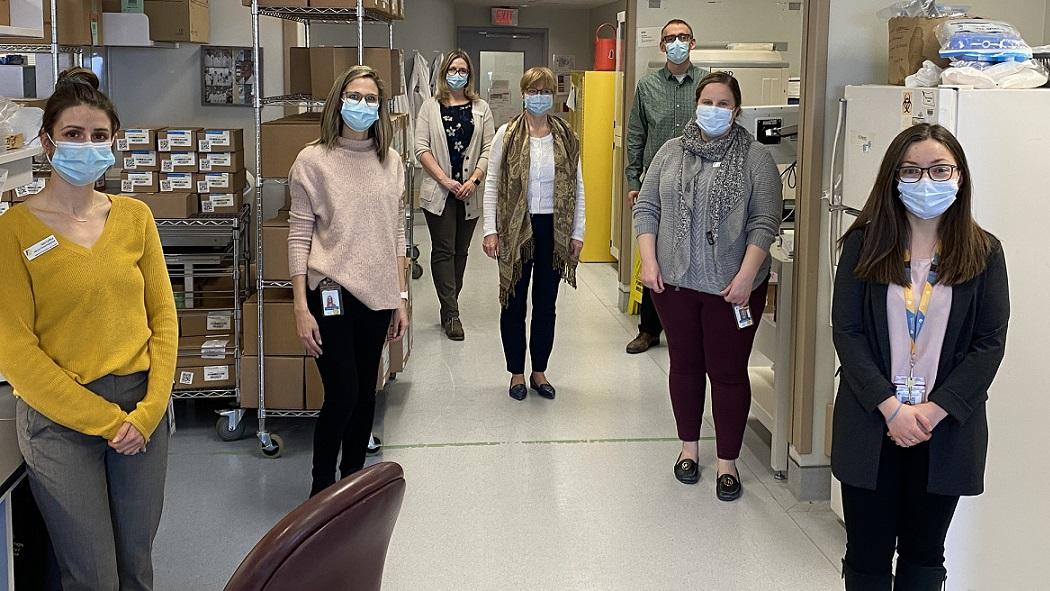 IPC team members joined by members of the Microbiology Laboratory at VH.
March 16, 2021
A critical component of the fight against COVID-19 at London Health Sciences Centre (LHSC) is the Infection Prevention and Control (IPC) team. Comprised of 14 professionals, most of whom are formally certified in infection prevention and control, the team uses their subject matter expertise to advise on practices that keep patients, staff and physicians safe from infectious diseases like COVID-19. With the current pandemic, this has
been a year of constant researching and reviewing information to ensure LHSC's practices and protocols are always the safest possible.
After the Ebola outbreak in 2015, work began in preparation for when the next unknown infectious disease appeared. "We received directions from the Ministry of Health to develop a ready and resiliency operational plan which provided us the blueprint to be tailored to a new organism," explains Alice Newman, IPC Director.
In early 2020, information started to appear about a novel coronavirus and its transmissibility among humans. The IPC team at LHSC and their colleagues from around the world began preparing.
When the new virus appeared in Ontario, the IPC team was able to pivot quickly and begin implementing new recommendations, procedures and protocols to keep patients, staff and physicians safe, in collaboration with community partners and other departments including Occupational Health and Safety Services, and the Joint Health and Safety Committee.
"We are constantly evaluating the information. It is important that we are aligned with our partners in Public Health and at St. Joseph's Health Care London in the principles behind the tools we develop," says Newman. This ensures that while their procedures may vary slightly to align with the population served, the overarching principles and practices are in line across organizations which provides consistency for staff, physicians and patients.
During the first wave, patient activity was fairly low and IPC was able to focus on developing the tools needed to respond to the new virus. "It was a new virus. Everything about the behavior of it had to be learned and we took a very precautionary approach," says Newman.
Chelsea Martin, a registered nurse and IPC professional for the past 10 years, provides a unique perspective on how much IPC information, procedures and protocols changed since the pandemic began. Martin was on maternity leave since May 2019 and returned in late October 2020, just before the outbreaks at University Hospital began.
She identifies some of the biggest changes for her were around the amount of new resources and guidelines that she had to become familiar with including the LHSC COVID-19 specific intranet pages. "I am so appreciative of the work my colleagues did in the beginning of the pandemic which made it fairly easy for me to pick up when I came back," says Martin.
From a workload perspective Martin sees how the IPC team is meeting the challenges of managing the COVID-19 pandemic. "Our workload shifted entirely to an acute respiratory illness focus," explains Martin. "We also became more involved with different aspects such as bed management because it really matters with respect to transmission."
The Infection Control team are grateful for the overwhelming support and recognition from the organization that each staff member has a part to play, and importance of safety for all remained a key objective.
The IPC team at LHSC has now been fighting the pandemic for over a year. While staff and physicians help patients fight the illness, the IPC team incorporates the latest recommendations into LHSC's procedures and protocols in order to reduce transmission and keep our everyone – our patients, staff and physicians – safe.