January 20, 2014
In 2008, Academic Physicians and the Ministry of Health and Long-Term Care established an Innovation Fund to support the development of new and innovative approaches to health care delivery and to provide leadership in the dissemination of new knowledge across the healthcare system. The Innovation Fund is the result of the Academic Health Science Centre Alternative Funding Plan that now includes more than 5,000 physicians working in 17 of Ontario's Academic Health Sciences Centres.
This year's Innovation Showcase event saw 80 projects invited to participate through poster presentations and panel discussions. 
Since the Fund's inception, over 7 million dollars has been awarded to London Academic Physician Projects. The Academic Medical Organization of Southwestern Ontario (AMOSO) facilitates the annual Funding Competition due at the end of October. For further information, contact amoso@lhsc.on.ca.
Dr. Richard Kim's program, entitled "Personalized Medicine at London Health Sciences Centre: Implementation of a Dedicated Ambulatory Clinic and Inpatient Consult Service" was awarded as the most innovative, transformative and adoptable program in the category of Best Innovation in Evidence-Based Care.
The award was presented to Dr. Kim by Minister Deb Matthews, Deputy Premier and Minister of Health and Long Term Care.
"The Innovation Fund leverages the immense knowledge and creativity of Ontario's academic health physicians to create more effective and efficient methods of health care delivery in this province" said Deb Matthews, Minister of Health and Long-Term Care. "Congratulations to all of the researchers whose projects have been supported through this initiative since its inception. Ontario's patients have truly benefitted from your commitment to improving their care."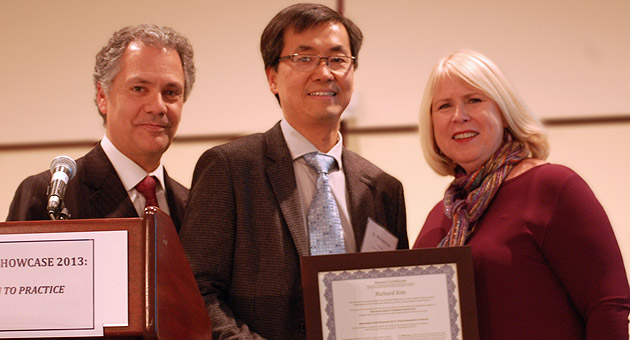 The recognition was presented by the Ontario Minister of Health and Long-Term Care Deb Matthews (right) and Dr. Barry Rubin, Chair Academic Health Sciences Centre (AHSC) Alternate Funding Plan (AFP) Governance Organizations (left).