April 26, 2016

Patients waiting for a life-saving organ or tissue transplant are often quite ill, but one innovative program at the Multi-Organ Transplant Program (MOTP) at London Health Sciences Centre (LHSC) is helping ensure patients are as strong and healthy as possible before their surgery.
The TONE program – Transplant ONline Exercise – encourages patients who are waiting at home for their transplant to exercise via videoconference two or three times each week with an MOTP physiotherapist. This program is a first of its kind for transplant centres in Canada.
While the MOTP has had a physiotherapy-based exercise program for more than 25 years to help patients regain their strength after transplant surgery, recent studies have shown the importance of maintaining health before transplant surgery.
"The fitter transplant patients are before surgery, the better the outcomes tend to be," says Nancy Howes, an MOTP physiotherapist for 20 years. Over the years, Howes and her colleague Tracy Fuller developed an exercise program for people in London or who are in hospital waiting for surgery to come to a daily exercise class in the transplant unit. 
"What we were finding was that while we can teach them the importance of exercise and send them home with a copy of the program, once they left our site their ability to maintain an exercise program deteriorated," says Howes.
Recognizing that technology was readily available to many of their patients, Howes and Fuller developed the TONE program to provide telerehabilitation, encouraging patients who are at home waiting for their transplant to exercise via video conference two or three times a week.
By joining the MOTP physiotherapy classes virtually, patients can perform their exercises with supervision and encouragement. The TONE program provides patients with a loaned iPad so they can connect to the classes via Skype. 
Two years ago Ellen Desrosiers was waiting for a heart transplant, but before she would be strong enough for that surgery she would require an LVAD (left ventricular assist device) to ensure her heart and other organs were healthy enough for transplant. 
While at LHSC to prepare for her LVAD surgery, Desrosiers says she was introduced to the MOTP physiotherapy classes. "I was extremely unhealthy and overweight. When I started these classes and realized there were others in the same boat as me, it helped to motivate me."
After her LVAD surgery Desrosiers returned home to await her heart transplant and was able to continue participating in her physiotherapy classes via Skype three times a week. "Having this connection was incredibly motivating," she says. "When I'm at home by myself it would have been hard to stay diligent about exercising but these classes kept me in contact with the hospital, and I knew that if I had a problem I could have it addressed in real time."
Those participating in the TONE program have been enthusiastic about their progress, exercising several days a week and reporting improved tolerance and progression. Howes says that she and her colleagues will begin to study the specific health benefits of those who participate against those who don't.
"The goal of this program is to make people as mobile as possible. They can't be fitness fanatics given their health limitations but we want them to be able to still live as normal a life as possible while they are waiting for a transplant. And ultimately it helps them have a better outcome following the surgery."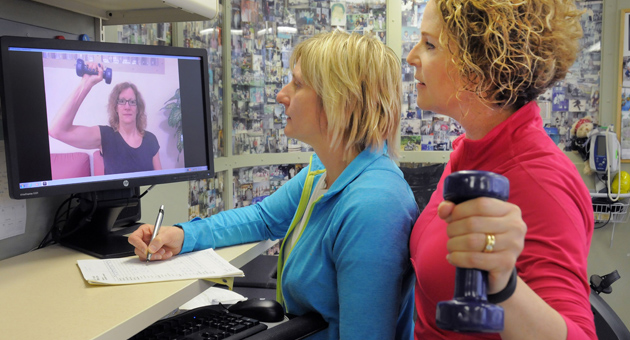 Physiotherapist Nancy Howes and her colleague Tracy Fuller, physiotherapy associate, work with a patient video videoconference through their "TONE" program – Transplant ONline Exercise.