London Health Sciences Centre nurse, Mary Reid, wins Community Inspiration Award from local agency
July 4, 2013
When Mary Reid, a nurse in the Mental Health Care program, identified a need for mental health inpatients to have access to education and support to work through their addiction challenges, she knew she had an important role to play in making that happen. As it turns out, Reid was the driving force behind the establishment of psychoeducational groups-  facilitated by nursing staff - offering patients a safe place to share, learn and develop coping strategies, as well as a resource library stocked with resource materials aimed at helping patients better understand their addictions.
Last week, Reid was honoured by Addiction Services of Thames Valley (ADSTV), for her work in ensuring patients have access to this vital support while in hospital. The Community Inspiration Award honours candidates who most represent the spirit of generosity toward the community, advocating for those who cannot advocate for themselves, and inspiring and mentoring others.
"The Community Inspiration Award is given each year to a person nominated for their volunteerism, commitment and passion for the community. Mary's nomination reflected her commitment to helping clients with addiction issues at LHSC. Mary has donated her personal time over the years to build capacity at LHSC to better serve patients and to share knowledge with peers", said Linda Sibley, Executive Director of ADSTV.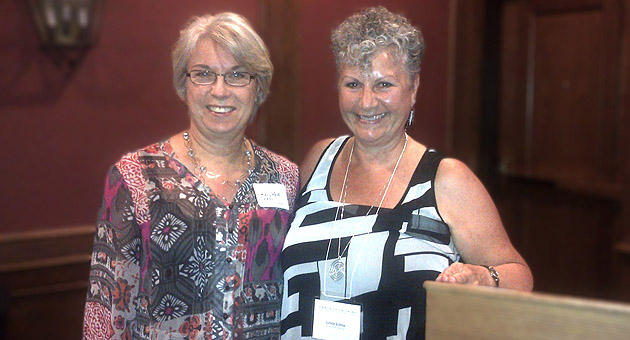 Award winner Mary Reid (left) with Linda Sibley, Executive Director, Addiction Services of Thames Valley.
Reid was nominated by Inpatient Mental Health Care Program Manager, April Mullen and Chantal Dubois, Addictions Consultant in the program. In their nomination, they wrote: "It was Mary's tenacity and integrity that pushed care for addictions to the forefront for the Mental Health Care Program. To her patients she offered, in her own words, "an invitation to have a conversation", to her peers – both colleagues and leadership – she shifted the culture from one of 'we can't treat addictions in an acute care setting' to 'we must address addictions'."
"I am deeply honoured to be recognized in this way by these dedicated people whose work and level of compassion I so admire. That they value what I'm doing, is a priceless gift, and I'm humbled by it," said Reid.