February 25, 2015
When patients enter an intensive care unit (ICU) their condition often limits their ability to communicate with caregivers and loved ones. Since November, a pilot program launched by the Speech-Language Pathology program at London Health Sciences Centre (LHSC) is enabling communication through the use of Apple iPads.
"At a time when critical decisions are being made on behalf of patients, their condition often prohibits their ability to ask questions, express their wishes, or speak to their families," says Emily Barrett, speech-language pathologist, LHSC.
To empower patients during their care, speech-language pathology chose to use iPads programmed with special software, called "The Grid" that would allow patients to make common requests, speak the name of a family member or care giver, and share common greetings such as "hello, how are you?" with the tap of a pre-programmed button.
"Many people are familiar with the basic layout and functions of an iPad, which informed our decision to use them since it will help patients communicate that much faster," says Kendra Thouless, speech-language pathologist, LHSC.
Bob Henry, a retired computer programmer and project manager, from St. Thomas Ontario was the first patient to receive an iPad. Henry experienced a night of breathing difficulties that unexpectedly lead to a three week stay at St. Thomas Elgin General Hospital and a transfer to the ICU at LHSC's University Hospital.
The ventilators and feeding tubes that kept Henry alive also impaired his ability to communicate vocally. At LHSC, he was diagnosed with Myasthenia Gravis – a chronic autoimmune neuromuscular condition that causes severe fatigue of voluntary muscles, including those that control facial expression, chewing, talking and swallowing making basic tasks exhausting.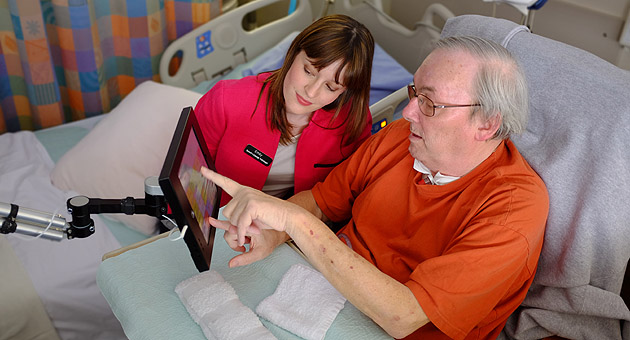 "I could think clearly and I could hear clearly," says Henry. "But I could not talk because I had a tube down my throat that fed me and provided oxygen. So it was very difficult." Henry's early communication efforts included tracing letters of the alphabet on his stomach to form words, and pointing to the letters on a letter board. These techniques were frustrating for Henry because of the time required to trace sentences, his fatigue and the occasional inability of others to understand at time.
"The iPad changed how I communicated with nurses, doctors, and my family," says Henry. "With nurses and doctors I was able to communicate my needs, I was able to help my wife with our household affairs, and I was able to communicate with my grandchildren."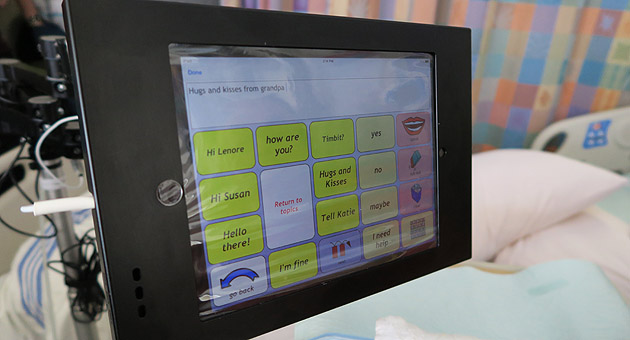 "Bob was quickly using the iPad in ways that we never imagined to take a more active role in his care," explains Barrett. Henry previously used a notes application to track the e-books he was reading and decided the same application could keep track of his care such as the time he took his medications, the effects, and keep a log of the important care decisions he made with his doctors.
"After he received the iPad I began to notice a big change in his personality," says Lenore Henry, Bob's spouse. "Bob was more engaged in his surroundings and his care, but also with the family and his visitors." His care givers, "were seeing his personality emerge, including his sense of humour," adds Barrett.
The pilot program which began with three iPads shared between the ICU's at Victoria and University Hospital was made possible by a donation from The Tom and Sue Allan Family Fund, a fund within the London Community Foundation.  Each unit was customized to ensure infection control practices, privacy, and a customized rolling stand to suit the bedside environment. After meeting Henry, the donor added another two iPads to the project.
"The value of the iPad system on patient quality of life and ability to just 'be themselves' even in the ICU was striking, as was the additional value to the care team and how it is resulting in improved care. We are so pleased to be part of this continuing initiative-- rarely have we experienced a donation having such an immediate and important impact," says Dr. Alison Allan, family fund representative.
"I'm just so glad that I was able to contribute," says Henry. "The project helped me and I'm glad that I could play a part in making sure it helped others."
Donations for additional iPads are welcome, and can be made to London Health Sciences Foundation.