Courtright youngster meets hero who inspired his fight
September 10, 2013
A superhero visited the London Regional Cancer Program (LRCP) at London Health Sciences Centre (LHSC) on Tuesday – actually, make that two superheroes.
When Carter Robbins was diagnosed with a stage three Anaplastic Ependymoma brain tumour at the age of four, it was clear he would have a tough battle to fight. Five surgeries, a round of chemotherapy and 33 sessions of radiation later, Carter had not only fought a winning battle, but he had also earned himself a nickname from his surgeon – "Iron Man".
"Carter has always been known for his easy-going nature, and his ability to go through any test or treatment without much complaint or fuss at all," says mom Jeannette. "In fact, he has never once needed to be sedated for any of his MRIs or radiation treatments. He just reminds himself that he's Iron Man, and does whatever the doctors need him to do."
After a two-year period free from cancer, Carter – now seven – recently suffered a recurrence of his tumour, and his superhero strength kicked in once again. Staff at the LRCP were so impressed by their "little Iron Man", that they arranged for Carter's favourite superhero to surprise him after his final radiation treatment. Together the two Ironmen – big and little – sounded the ceremonial gong that each radiation patient rings when their treatments come to an end. Carter also had the opportunity to show his hero the radiation mask, painted in Iron Man colours, that he wore throughout his 30 treatments.
"It's important to our staff that our young patients leave LRCP with some good memories – even happy memories – of their time here," said Radiation Therapist Kelly Ackerman. "We try to ensure that their visits are not just about the treatment, but also recognize the special and unique personalities of each child. When we learned about Carter's nickname, we knew that helping him channel his inner Iron Man would make his treatments easier and more pleasant. We hope that having his favourite superhero here to celebrate the end of his radiation sessions will put a smile on his face."
Remarks Jeannette, "We can't thank the team at the London Regional Cancer Program and the Pediatric Medical Day Unit and Art Therapy Department at Children's Hospital enough for the kindness they've shown to Carter. His care has been exceptional, and this surprise visit by Iron Man is one more example of how far above and beyond they've gone for him."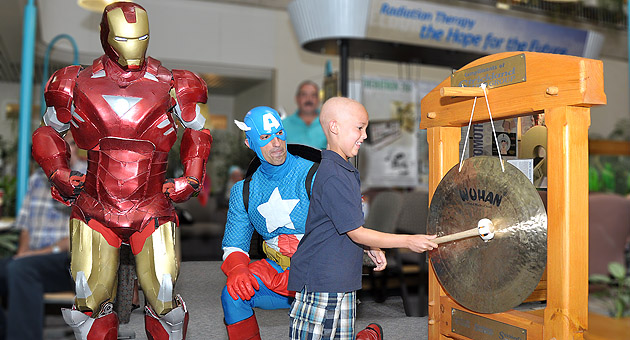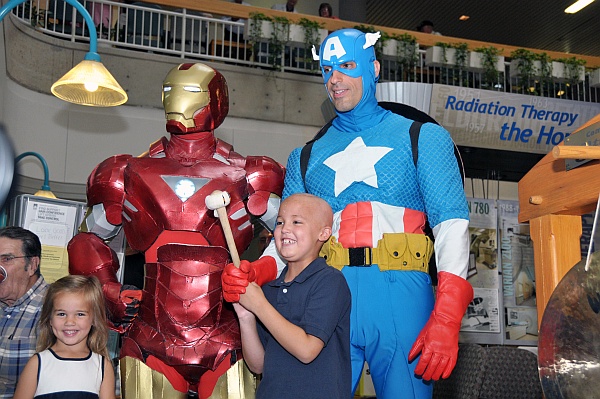 Robbins with Iron Man, Captain America and his sister Alexis after sounding the gong.