September 25, 2015

When Leah Hunt talks about her daughter, Fiona's, battle with acute myeloid leukemia (AML), her words are filled with gratitude for those who were on the journey with them. The doctors, the nurses, the staff of Ronald McDonald House who gave them a home away from home during months spent in Toronto post-bone marrow transplant, the Camp Oochigeas staff who visited daily with fun distractions for her little girl, and so many more friends met along the way.
To recognize Childhood Cancer Awareness Week, several families, including the Hunts, were given the opportunity to return to Children's Hospital at London Health Sciences Centre, for one special reason. To say 'thank you' to the many hospital programs and community organizations who spring into action when a family hears the words 'your child has cancer'. 
Representatives from over a dozen paediatric cancer support programs and agencies were on hand in B Zone atrium to share information with staff and visitors, and to reconnect with patients past and present.
Dr. Lawrence Jardine welcomed guests to the event, with Nurse Practitioner Anne Chambers taking over as event emcee introducing five families to the podium, each with a story to tell about their experience at Children's Hospital, and the support they received inside and outside the hospital walls. Although each story was unique, a common sentiment was shared by each person – the cancer journey they experienced was made easier because of the support they received from the cancer 'team'.
"Fiona had pain and fear that was so intense she didn't speak a word for four months. She didn't have the strength to even get out of her bed", said Leah. "As her family, we didn't know what to do to help her. And then Camp Ooch started visiting her daily, with fun things for her to do. They didn't want anything from her – they just wanted to give. And then Kids Kicking Cancer came by and urged her to get out of bed and kick at their karate pad. And slowly we saw her come around. Once she was released, she looked forward to coming back into hospital so that she could see all her friends. Fiona's soul had been broken by AML, and they fixed it when we couldn't. From my full heart - thank you."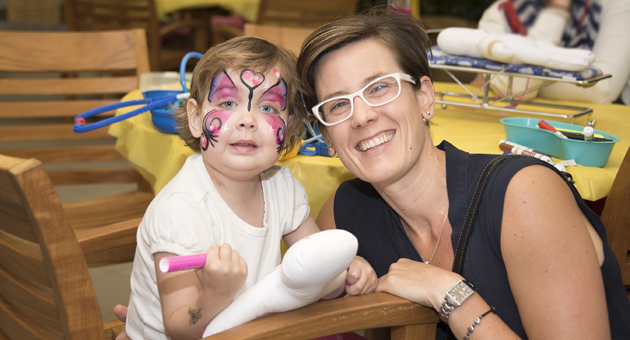 Leah Hunt, and daughter Fiona, returned to Children's Hospital to say 'thank you' to the team who helped her through her recovery from AML.