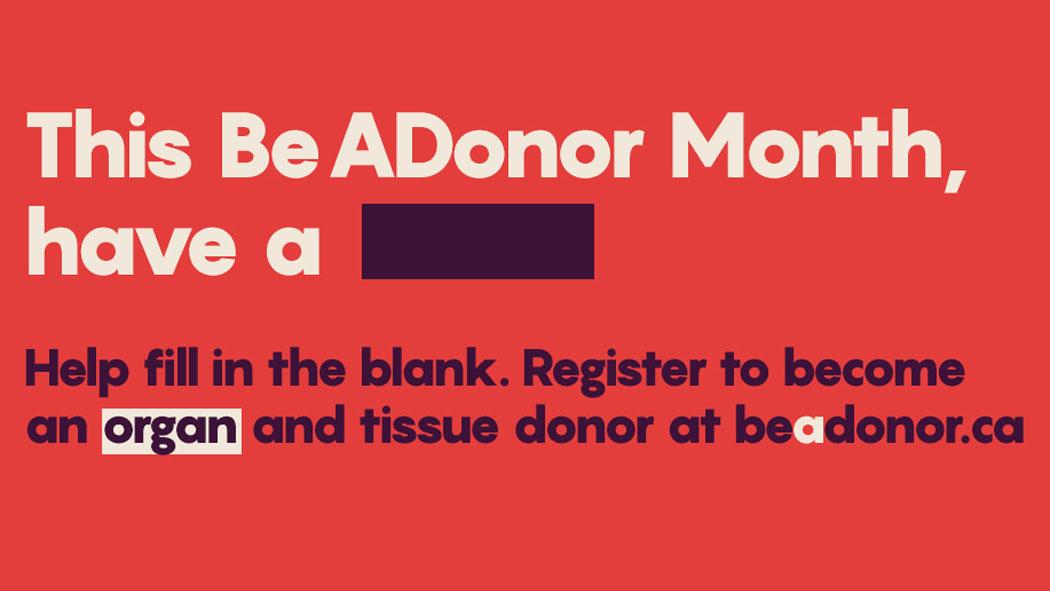 April is Be A Donor month
At any given moment, there are more than 1,600 people in Ontario waiting for a life-saving transplant. These individuals are suffering from organ failure and the generous gift of life from an organ donor is their only treatment option. Sadly, every three days someone will pass because they did not receive their transplant in time. Tissue donors also have a significant impact as they enhance the lives of those recovering burn victims, help to restore sight, and allow people to walk again. Donors not only save lives, they also help to optimize the lives of their recipients.
This April it is perhaps more important than ever for all Ontarians to find out more about organ and tissue donation and to register their consent as a donor, as the changes to the way we access goods and services over this past year have greatly impacted registrations for organ and tissue donation. With fewer people visiting ServiceOntario centres in-person to renew products during the pandemic, there has been a more than 50% decrease in donor registrations when compared with the same time the previous year.
This is important to note because registration has a strong connection to donation. Trillium Gift of Life Network, the Government of Ontario agency responsible for delivering and coordinating organ and tissue donation and transplantation services across the province, reports that when a potential donor has registered, families almost always proceed with donation but in the absence of registration, families only give their consent half the time.
As the home of an internationally renowned Multi-Organ Transplant Program at University Hospital, whose research, clinical innovations and expertise continue to improve patient outcomes, LHSC is proud to partner with the Trillium Gift of Life Network to support Be A Donor registrations. One donor can save up to eight lives and as enhance as many as 75 more through the gift of tissue. Age alone does not disqualify someone from being a donor. Nor does current or past medical history, as each potential donor is evaluated on a case-by-case basis. By registering to be a donor, you are helping to ignite hope among the individuals on the transplant waiting list and their loved ones.
It only takes two minutes to potentially change someone's life. Registering as a donor, or checking your status, is a quick and easy online process – you just need to visit beadonor.ca and have your health card number available.
Nearly 200 transplants are completed by LHSC's multi-organ transplant program each year. To-date more than 6,000 Canadians have received their life-saving transplants at LHSC, including kidney, liver, heart, kidney-pancreas, pancreas, and multi-organ transplantation, and more than 700 living kidney transplants.