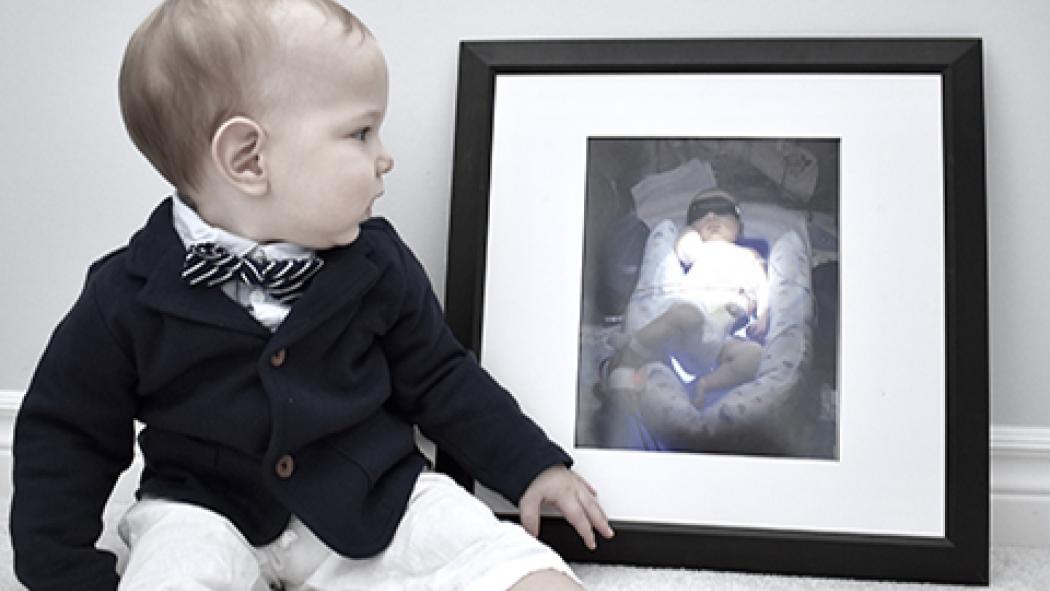 Doug MacRae keeps a picture on the fridge of his son Campbell in the Neonatal Intensive Care Unit at LHSC's Children's Hospital. It's a bittersweet reminder of what the family went through more than two years ago when Campbell was born.
Doug and his wife Michelle were surprised to learn during her third pregnancy that she was Rh-negative. The Rh factor is a type of protein that is usually on red blood cells. People who do not have this protein are considered Rh-negative. During pregnancy, being Rh-negative can lead to issues if the baby is Rh-positive. If the mother's and baby's blood mixes, the mother's body will start to make antibodies that can damage the baby's red blood cells. This can lead to the baby having anemia, jaundice, or more serious problems.
When Campbell was born two weeks early, he was severely jaundiced. After two weeks of care and monitoring in the Neonatal Intensive Care Unit at LHSC's Children's Hospital, the MacRaes were happy to bring Campbell home.
"We thought all was well and good," recalls Doug. "But within the first week of him being discharged, that changed rapidly."
The MacRaes were concerned when Campbell stopped eating and became lethargic. They brought their little boy to their family doctor for a blood test. His results were concerning. "We could see his skin losing colour by the minute," says Doug.
The MacRaes took Campbell to the Emergency Department at Children's Hospital, where it was determined he would need a blood transfusion immediately. It was difficult to get a line into the tiny infant because his veins were so small. It was a trying time for the family.
After receiving a blood transfusion, Campbell was admitted back into the NICU. "Almost instantly, he regained colour. That night, he ate a ton – he gained an entire pound – and he just became a jolly baby again," says Doug.
The next day, Doug donated blood at Canadian Blood Services for the first time. "I thought, 'he made a withdrawal, so I had better make a deposit!'"
Over the next few months, Campbell would require four additional blood transfusions until his body was able to independently produce red blood cells. At eight months old, Campbell was given the all clear from his doctor.
Now, at two and a half years old, Campbell is thriving. "He's doing too well," laughs Doug. "He's healthy; energetic; such a handsome little guy!"
Because Doug was so impressed with Campbell's care, he wanted to become involved with the hospital and began working at London Health Sciences Foundation as a Development Officer in 2017.
Campbell's experience has served as a constant reminder that patients need a steady blood supply, and Doug has been a regular donor ever since.
"For people who are nervous to donate blood for the first time, l encourage them to go to the clinic and experience it," says Doug. "It is such a positive environment. The staff and nurses are wonderful. Look beyond the act of the donation, and instead, look at the impact of the donation."
Doug began a tradition with some of his family members last year when a group of them went to donate blood together near the holidays.
"It's the true gift of life," he says. "You never know when you or someone you love will need it, and you don't know who around you has needed it before. I will be forever, eternally grateful for the strangers who decided to give blood and ultimately saved Campbell's life."
Individual and group donors are needed during the holidays
Canadian Blood Services is encouraging individuals and groups to give the gift of life this holiday season. The Blood Donor Clinic at 820 Wharncliffe Rd. S. will be open:
Monday, Dec. 24: 9 am – 1 pm
Wednesday, Dec. 26: 12 pm – 4 pm
Friday, Dec. 28: 9 am – 1 pm
Saturday, Dec. 29: 9 am – 1 pm
Monday, Dec. 31: 9 am – 1 pm
There will also be a Mobile Blood Donation Clinic on Friday, Dec. 21 at Citi Plaza (Unit 144), from 10 am – 2 pm. The St. John's Ambulance therapy dogs will be on site!