April 24, 2015
"A patient advocate, a care coordinator, a leader, a role model, an innovator, a teacher/mentor, a scholar."
"She consistently makes patient needs a priority."
"She is so caring to all the patients and to the families."
"She cares for her patients so much to the point where she treats them like her family."
These phrases, written by colleagues as well as patients and their families, exemplify why Julie Ann Lawrence, a Nurse Practitioner in London Health Sciences Centre's Regional Renal Program was chosen as one of nine Human Touch Award recipients by the Ontario Renal Network (ORN) and Cancer Care Ontario.
The Human Touch Awards are presented to deserving front-line kidney and cancer health care professionals, providers and volunteers from across the province for providing exceptional, compassionate patient care. Lawrence collected her award during a ceremony on April 23.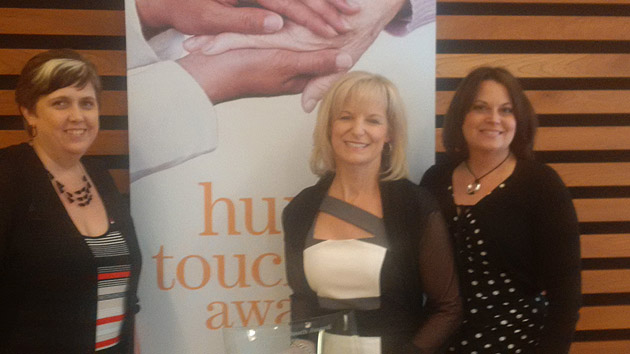 Joining Lawrence in being nominated for a Human Touch Award are:
Julie Sans, Coordinator, London Regional Cancer Program, LHSC;
Rosemary Davidson, Registered Nurse, London Regional Cancer Program, LHSC;
Sue Stein, Diagnostic Assessment Program Navigator, London Regional Cancer Program, LHSC;
Angela Andrews, Registered Nurse, Regional Renal Program, LHSC.
"Congratulations to all of LHSC's Human Touch Award nominees," says Neil Johnson, Vice President, Cancer Care, LHSC, and Regional Vice President, Cancer Care Ontario. "Each nominee demonstrates excellence of care in a patient centred way."
A personal touch in chronic kidney disease care
A diagnosis of chronic kidney disease or cancer is life-changing, with both physical and emotional implications, and the journey that lies ahead is often challenging; to assist patients during this time, it is important that the emotional symptoms of the disease are treated along with the physical ones.
Renal patients, especially those on hemodialysis, can spend up to four hours a day, three times a week receiving treatment and speaking to their caregivers. As a nurse practitioner, Lawrence listens to her patients; she not only has an ability to recall each individual's in-depth medical history, she is also abreast of their current situation both medically and personally, and this knowledge is essential in the effective and comprehensive care coordination and communication for patients, families and team members.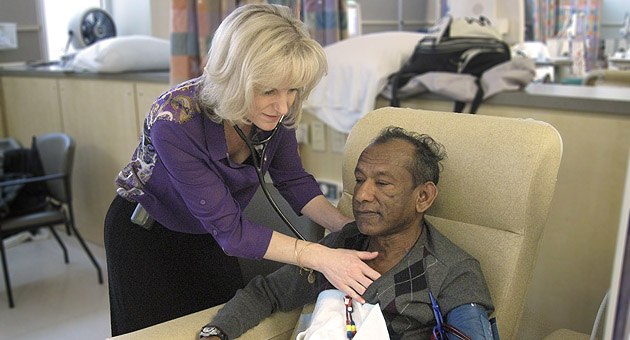 Julia Ann Lawrence, nurse practitioner, LHSC, treats patient Ram Mansingh, one of the patients who contributed to her successful nomination for a Human Touch Award.
"I was overwhelmed when I found out that I had been nominated for the award," says Lawrence. "While working in renal, I have experienced the privilege that we, as health care providers, enter into intimate aspects of people and family's lives when they are the most vulnerable. I've found that, those are times people and families tend to remember most when you elevate their hope, reinforce their fears, or listen in silence to their experience. When we can walk together with our patients in the journey of convalescence, most are touched in a soulful manner. I hope we never forget this art in the science of caring."
Described as a care coordinator, Lawrence devotes time helping patients with multiple illnesses and diagnosis navigate the health care system. For example, she spends time informing family physicians of care decisions or treatments or she works with other hospital areas to coordinate surgeries or procedures around dialysis aspects. "Today I noticed a dialysis chair sit empty because the patient that usually occupies it is receiving a kidney transplant. It is through working with the patients and coaching them to prepare for transplant that they can see possibilities that perhaps they did not realize as a possible goal of their care," adds Lawrence.
In addition to the personal care and attention Lawrence shows her patients, she also contributes to the well-being of renal patients through research and quality initiatives. One such example is her establishment of safe showering protocol for patients with tunneled central venous line catheters (CVC). Previously, CVC patients were told to only take sponge baths, but Lawrence noticed that patients were showering anyway and reapplying a sterile dressing themselves. She garnered the support of physicians and nurses and with a team of nurses began teaching patients how to safely shower with their catheter. Her efforts were recognized as an "innovative Leading Practice" by Accreditation Canada in 2012. Currently, the research is being studied in a randomized controlled trial and she received calls from around the world inquiring about the practice.
"Our patient's lives can be seen as a big umbrella that patients give us permission to come under. They give us the power to navigate some aspects of their care for them, and they appreciate it when we help elevate and empower them in their own care," adds Lawrence. "By working together, we can improve their quality of life. This can be accomplished through direct care and research."