March 23, 2016

Staff and physicians at London Health Sciences Centre (LHSC) and LHSC's Children's Hospital are pleased to launch the hospital's second annual Kangaroo-A-Thon, March 16 to 30.
Despite the name, this challenge does not involve bringing marsupials from the land down under into the hospital. It is named for the practice of kangaroo care—skin-to-skin holding of small babies with their parents. The Kangaroo-A-Thon was initiated last year in LHSC's Neonatal Intensive Care Unit (NICU) after staff received a friendly challenge from colleagues at Sunnybrook Health Sciences Centre, who challenged other NICUs in the region to see who could log the most number of kangaroo care hours.
There have been many documented benefits associated with kangaroo care. "Studies have shown that moms who practice kangaroo care can breast feed longer, and they are more sensitive to the cues of their baby," says Evelyn McGovern, an RN in LHSC's NICU. "In addition, kangaroo care can help to regulate baby's body temperature, and it helps colonize the baby with the mother's healthy bacteria so it can also help to prevent infection."
Children's Hospital promotes family integrated care, and both parents are encouraged to participate in skin-to-skin care to promote brain development, attachment building, and immunity boosting associated with kangaroo care. It's also beneficial for parents who get to hold their infants, some after many weeks of being separated by machines.
Marc-André Raymond and his partner are happy to have the opportunity to provide skin-to-skin care in the NICU for their two daughters, Béatrice and Éléonore, born via surrogate at 26 weeks on Feb. 8. 
"The first time we got to hold them skin-to-skin was amazing. You can really take time to discover them from head to toe, which is something you just can't fully experience looking at them through a window of an incubator or in a quick diaper change," says Raymond, who spends 2-3 hours a day providing kangaroo care to each daughter. "These are the best moments of my day," he says smiling as he holds Béatrice.
Kangaroo care has been practiced in the NICU for the past 20 years, and for this year's Kangaroo-A-Thon, staff in the NICU have extended a friendly challenge to their counterparts in other areas of the hospital that care for infants such as the paediatric critical care unit, delivery room, mother baby care unit, and inpatient paediatrics.
"We know that other areas who care for infants practice kangaroo care, but with so many benefits associated with its practice, we wanted to help encourage its promotion to other families who can benefit," says McGovern.
Meagan Furnivall, a registered midwife, is a strong supporter of skin-to-skin contact for full-term infants as soon as they are born, noting that the physiological benefits that have been documented (stable blood sugars, less stress on newborn, early initiation of breastfeeding, etc.) result in part from the activation of neural pathways that form in both mother and baby when the baby is placed on its mother.
"A mother's chest is warmer than the rest of her body, and is the perfect place for baby to smell, taste, touch, and hear her," says Furnivall. "If the baby is bundled up, put in a cot or handed to dad without skin-to-skin, these neural pathways are not activated in the same way. This immediate skin-to-skin gives the newborn a developmental advantage, promoting decreased stress and improved outcomes for the baby across its lifespan."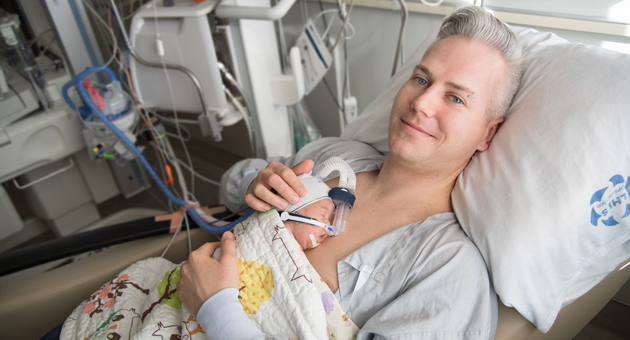 Marc-André Raymond spends 2-3 hours providing skin-to-skin care (known as "kangaroo care)  daily to each of his two twin daughters, Béatrice and Éléonore, born Feb. 8 at 26 weeks. Both infants are currently in the Neonatal Intensive Care Unit at LHSC's Children's Hospital, which is holding its second annual "Kangaroo-A-Thon" from March 16-30, promoting the importance of kangaroo care.