April 10, 2015
The Neonatal Intensive Care Unit (NICU) at London Health Sciences Centre's (LHSC) Children's Hospital is holding its first ever Kangaroo-A-Thon to increase awareness of the importance of skin-to-skin holding, or kangaroo care, for premature or ill infants and their families. Taking place from April 10 to April 24, this initiative is in response to a friendly challenge issued by Sunnybrook Health Sciences Centre to other NICU's in the region to achieve over 605 hours of skin-to-skin holding in a two-week period.
Kangaroo care, named for the similarity to how certain marsupials carry their young, has been occurring in the LHSC NICU for approximately twenty years, and has recently evolved to encourage the parents of even the smallest babies to initiate skin-to-skin earlier.
"Many parents are hesitant to hold their baby who may be extremely low-birth weight and requiring ventilator support, but the benefits of time spent in close contact with mom or dad - brain development, attachment building, immunity boosting – make it imperative for them to try," says Dr. Kevin Coughlin, Neonatal Perinatal Medicine, LHSC.
Parents like Philip Wiebe and Laura Sanderson were extremely hesitant to hold their premature son Ben when he was born at 27 weeks. "We assumed that he needed to stay in his little sterile incubator, totally isolated from us for his best chances to grow and develop. We didn't realize that we would be helped and encouraged by the staff on the NICU to hold Ben in our arms every day," says Wiebe. At just 9 days old, Ben was in his mother's, then father's arms, and is now taken out of this incubator daily for approximately two hours at a time to nuzzle in and sleep on their chest.
"Providing this comfort is extremely important for parents and babies in the NICU," says Evelyn McGovern, RN, Children's Care, LHSC. "These parents often haven't held their babies, and have been physically separated by machines and tubes since birth."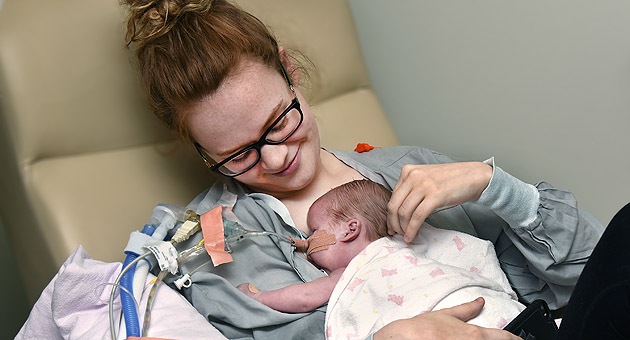 In the NICU, Danielle Kember holds her daughter Emery Piper in a skin-to-skin Kangaroo hold for a few hours every afternoon, promoting bonding and development.
Children's Hospital promotes family integrated care and either parent can participate in the kangaroo care which routinely takes about two hours. During skin-to-skin contact the baby is continuously monitored. 
For babies whose condition prevents them from coming out of the incubator, modified kangaroo care is an option. Modified kangaroo care includes encircling and hand hugging by positioning the parent beside the incubator with the side down.
"Every parent should have the opportunity to touch and hold their baby," says new mom Danielle Kember who gave birth to daughter Emery Piper at 34 weeks. "I am so grateful that the staff and physicians here helped and encouraged me to have this special time with Emery."
The recliners or 'kangaroo chairs' as they are referred to by staff and parents, used in the NICU at LHSC's Children's Hospital were donated by Children's Health Foundation and its donors.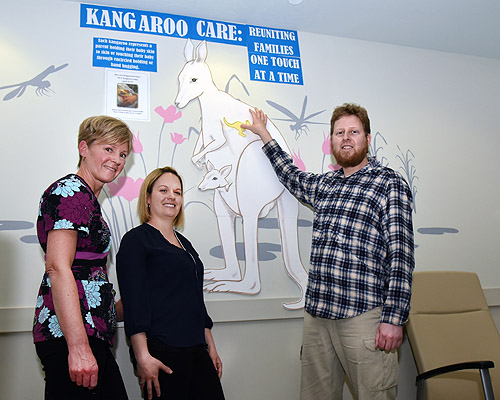 Brooke Read, RT and Evelyn McGovern, RN, Children's Hospital, help new dad to Baby Ben, Philip Wiebe put up a paper kangaroo to kick-off the two week Kangaroo-A-Thon in the NICU, with the goal of tracking over 605 hours of skin-to-skin 'kangaroo' care with new parents and their babies.