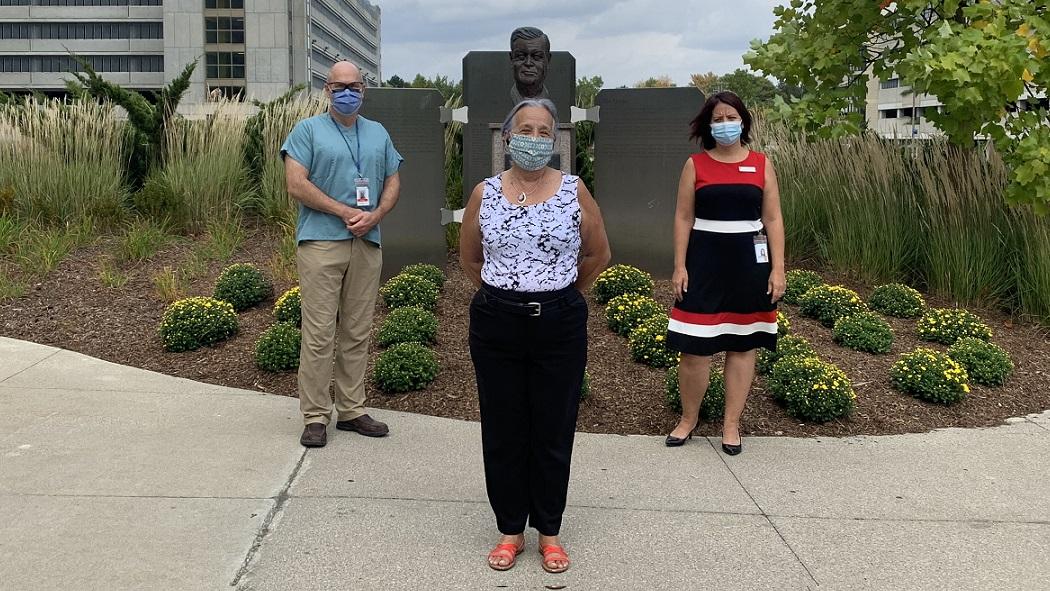 From left to right: Dr. Andrew House (Chair/Chief), Betty Clinton (Patient Partner) and April Mullen (Director) with the South West Renal Program at LHSC
October 16, 2020
The South West Regional Renal Program based at London Health Sciences Centre (LHSC) pivoted quickly to adapt to the new reality of the pandemic in March. Early adaptation to the new environment enabled the program to continuously provide life-giving care to patients and families at LHSC and the program's eight satellite sites in Southwestern Ontario. The South West Regional Renal Program at LHSC is helping ensure patients get the care they need, when and where they need it.
Dialysis is a life-saving procedure for those who experience chronic kidney disease and it was maintained at regular levels during the months when other hospital and medical services were being reduced. In order to maintain the health and safety of patients, families, staff and physicians the Renal program instituted a number of changes early in the year.
"Those patients who already required regular dialysis due to chronic kidney disease experience an added layer of risk. If they develop COVID-19 they may have worse outcomes," explains April Mullen, Director of the Renal Services at LHSC. "Our program had to be prepared to ensure we kept our existing patients safe while also planning for the potential of patients presenting with a new kidney injury as a result of contracting COVID-19."
In developing the renal COVID-19 response plan the program ensured that a patient and family advisor, Betty Clinton participated in all COVID-19 program meetings to inform the changes right from the beginning. "It is great to know that myself, a Patient Partner, has the opportunity be part of these discussions and the decision-making process at such a life changing and uncertain time," says Clinton.
Some of the measures taken included early adoption of universal masking of both patients and staff, as well as telephone pre-screening. "Many dialysis patients have symptoms that may mimic COVID-19, so we were able to complete a detailed screening of them by our staff," says Mullen. "The pre-screening helped us with planning their care in advance of their arrival and getting them to the dedicated spot."
Additional measures included switching to virtual clinic appointments, increasing use of home hemodialysis, and cohorting of patients. Patients who were from congregate living situations like long-term care homes, patients who are confirmed or suspected of COVID-19 were treated in special zoned areas that required staff and physicians to use personal protective equipment (PPE) for droplet precautions to protect both staff and patients.
To support acute kidney injury as a result of contracting COVID-19, Renal Services implemented another type of dialysis treatment in critical care called Sustained Low-Efficiency Daily Dialysis (SLEDD). SLEDD is a safe gentle form of hemodialysis which enabled the ability to maximize the program's resources to effectively care for patients with the potential to treat more than one patient at a time, should a large number of patients requiring dialysis arrive.
"We were worried about staff becoming sick and the need to still treat patients, so we looked at how we could best continue to provide the care with reduced staff," explains Dr. Andrew House, Chair/Chief Nephrology. Staff were involved with making the changes and ensuring patient and staff safety.
Staff were quick to adapt and adopt the many new program-wide changes. "In the early days of COVID-19 there was so much that was unknown, the fear and anxiety were real," says Mullen. "When you ask them about it now, they express their gratitude of each other in how our teams collaborated and supported one another during this unprecedented time."
Dr. House is proud of the work the whole team undertook and mentions how they are leaders in dialysis response to COVID-19. "During our Ontario Renal Network provincial calls it is clear that we are very much leading the way in every aspect of renal care from our preparations including potential rescheduling or changes in dialysis frequency, cohorting, infection control, transplant, protected code blue and acute dialysis care. Throughout the early days of the pandemic we were leaders in sharing our protocols, advice and learnings to other renal programs in the province," he says.
The South West Regional Renal Program at LHSC was able to quickly adapt to ensure patient safety and quality continue, and make staff, patients and caregivers feel safe during the pandemic.