February 19, 2015
A multidisciplinary team at LHSC's Kidney Care Centre (KCC) has shown the impact PREP can have on patients managing chronic kidney disease. The initiative was named a leading practice through Accreditation Canada, one of only two confirmed at LHSC.
The General Nephrology Clinic transfers patients whose chronic kidney disease is progressing towards end-stage renal disease to the Chronic Kidney Disesase (CKD) Clinic at the KCC. This means patients have to interact with a new place, new health care team, and new information, which can be an overwhelming experience paired with the news of a progression in their diagnosis.
The team created a new initiative to PREP patients for this transition. PREP stands for participation, resources, engagement and planning. PREP is a one-time clinic day to transition patients from general nephrology to the CKD clinics at KCC. Patients are familiarized to the KCC space at Westmount Mall as well as introduced to the entire allied health team who will help them manage their disease, including a nurse case manager, social work, pharmacist, dietitian, and physiotherapist.
"The clinic helps to transition patients, and give them an orientation to our team as well get them started on the journey of care self-management," says Terri McCallum, Nurse Case Manager, who originally had the idea for the clinic and brought it to the CKD team.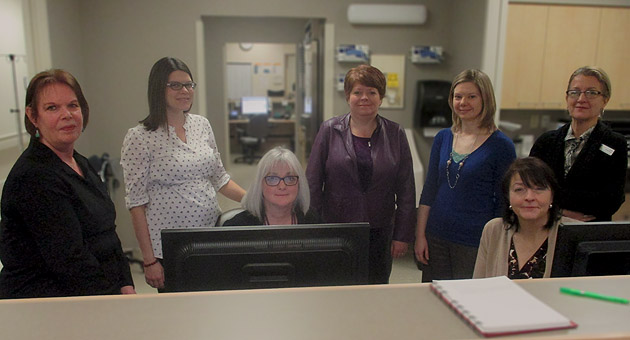 The Kidney Care Centre team who developed and implemented the PREP initiative, from left, is Gail Barbour, Coordinator; Lindsay Blackwell, Renal Pharmacist; Terri McCallum, Nurse Case Manager; Nancy Woodcock, Renal Dietitian; Angela Musico, Renal Dietitian; Tammy Willert, Renal Social Work; Sandra Bartlett, Nurse Case Manager. Not pictured: Anuradha Sawant, Physiotherapist.
 
Patients are introduced to the self-management approach learning how they can slow or prevent progression themselves, and how each member of the team will offer their expertise. During the clinic, team members are able to make full, individual assessments of each person referred from general nephrology. This improves the flow of subsequent clinic days, and gives physicians and the allied health team a better understanding of the patient's overall health.
The dietitian offers an overview of nutrition management of chronic kidney disease. Pharmacists review medication history ensuring all meds will help protect kidneys rather than harm them. Physiotherapist completes a mobility assessment and creates an ongoing exercise plan for the patient. Social work assesses barriers to care, assisting the patient in the financial, spiritual, physical and psychological readiness for the challenge of self-care related to the management of their disease progression. Nurse case managers provide learning tools including educational binders and develop plan of care helping to ensure the overall patient experience goes smoothly.
The qualitative feedback received from patients after their PREP clinic indicate  an   appreciation  in  receiving education about their care plan, and an explanation as to the roles of the allied health team members and the comprehensive support available. .
Coordinator Gail Barbour, who assists with the clinics by facilitating logistics and resources, and engaging physicians, says "I have wonderful staff, who saw a need and worked to deliver a solution that has been a positive experience for both our patients and staff."