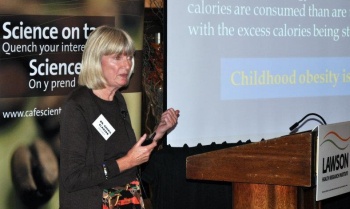 Lawson's Dr. Cheril Clarson presents at the Cafe

Scientifique on childhood obesity, October 2011.
Join us to hear from researchers who are investigating the role food may play in managing illness and keeping us healthy.
The event will be moderated by Dr. David Hill and the speakers include: Drs. Gregor Reid, Jim Koropatnick, and Stephen Pasternak.
Tuesday, April 24, 7-9 p.m., Convergence Centre, UWO Research Park, 999 Collip Circle, London.
RSVP to ext. 75664 or e-mail Susan.Mutterback@lhsc.on.ca by April 20.