May 9, 2014
On May 1, Lawson Health Research Institute hosted the inaugural Lawson Impact Awards. This new event celebrates hospital-based scientists, staff, trainees and partners who are making an impact in London, and around the world.
300 guests attended the  first-ever event, including Ruthe-Anne Conyngham, Lawson Board Chair, and senior leaders from London Health Sciences Centre, St. Joseph's Health Care London, and Western University.
The evening included dinner, awards presentations, and a keynote address by Dr. Mike Evans, the creator of the worldwide YouTube sensation "23 ½ hours," which has been viewed by over four million people. His talk focused on how social media and technologies are changing the way we navigate health care and convey health information to patients.
The 2014 award recipients are:
Scientist Career Award – Dr. Frank Prato, Scientist and Assistant Scientific Director:

Dr. Prato is the visionary, mentor, and leader who has made Lawson a national and international leader, home to many firsts for research and state-of-the-art equipment. His personal resume is rich with over 30 years of grantsmanship, industry partnerships, and academic honours.

 

He has translated his research through 11 patents and 4 start-up companies, one of which was the first ever spin-off from Lawson to be listed on the Toronto Stock Exchange.

Innovation Award - Dr. Ting-Yim Lee, Scientist:

Dr. Lee is internationally renowned for his development of CT Perfusion, a technology that measures how blood flows through tissues in the body. Now licensed by GE Healthcare, this technology is in use in more than 8,000 hospitals worldwide to better diagnose and treat stroke and cancer patients. Results of a recent socioeconomic study show public investment in Dr. Lee's work has not only expedited this innovation, but also yielded a 2:1 return on investment.

Dr. Joseph Gilbert Research Contribution of the Year Award - Dr. Nathalie Bérubé, Scientist:

Dr. Bérubé's award winning study published in the prestigious Journal of Clinical Investigation sheds new light on the role of genetic protein in protecting the developing brain from intellectual disabilities. The study was recommended by the Faculty of 1000, and received the prestigious CIHR Age+ Prize for excellence in research on aging by Canadian scholars.

The Staff Award of Excellence - Craig Johnson, Clinical Research Coordinator:

 

Craig supports the Cancer Clinical Research Unit, one of the most active clinical research teams at Lawson, where his patient recruitment rate to clinical trials is 10 times higher than the average in his area. These results speak to his ability to connect with patients and effectively communicate the importance of clinical research to their care.

The Leadership Award - Ashley Watson, Trainee:

Ashley is a city-wide representative for Lawson's trainee association, and a volunteer with countless organizations in the London community, including the Children's Health Foundation, where she works to promote health and scientific research. Her research has been published in three high-impact scientific journals.

Industry Partner of the Year Award – Lantheus Medical Imaging:

Lantheus is a long-term supplier to both London hospitals.

 

As a research partner, they provide Lawson with regulatory assistance, clinical trial access and sales/marketing support, while Lawson offers them access to a state-of-the-art manufacturing facility and leading edge research.

 

In 2010, they signed a Manufacturing & Supply Agreement with Lawson. Last year, they transferred the production for all of their FDG customers in Ontario to the institute.

Congratulations to these award winners for their contributions this year, and over their careers, to Lawson, research excellence, and their community.
"Lawson is one of the top ten hospital research institutes in Canada attracting $87 million in research funds last year," says Dr. David Hill, Scientific Director, Lawson.
"The achievements of its researchers demonstrate how London Health Sciences Centre, St Joseph's Health Care London, and Western University are improving the quality and efficiency of health care for Canadians, and how research and development represents a growing source of quality jobs," he says. "We have exceptional researchers that lead thinking world-wide. This is an occasion to take stock and together say 'Thank you.'"
To see photos from the event, please visit Lawson's Facebook page.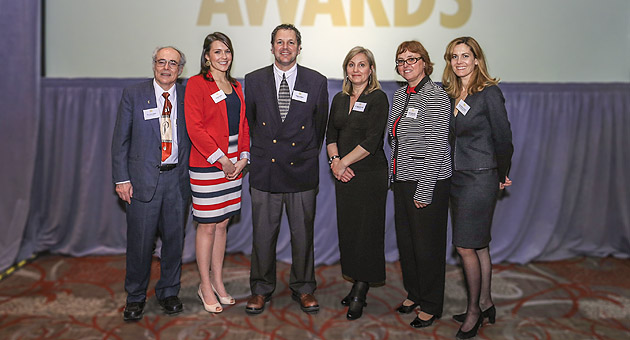 From left to right: Dr. Frank Prato, Ashley Watson, Craig Johnson, Dr. Nathalie Bérubé, and Marie-Claude Blais and Anne Marie Guertin, Lantheus Medical Imaging. Absent: Dr. Ting-Yim Lee.