May 27, 2015
Lawson Health Research Institute hosted the second annual Lawson Impact Awards on May 21, celebrating hospital-based scientists, staff, trainees and partners who are making an impact in London, and around the world. 
300 guests attended the event, including Howard Rundle, Lawson Board Chair, Matt Brown, Mayor of London, and senior leaders from LHSC, St. Joseph's, and Western University.
The evening included dinner, awards presentations, and a keynote address by Dr. Nina Tandon, TED Senior Fellow and the CEO and Co-Founder of EpiBone, the world's first company growing living human bones for skeletal reconstruction.
There were seven recipients of the Lawson Impact Awards, recognizing excellence in academics, leadership, training, operations, industry, and innovation. Congratulations to the 2015 award recipients:
Scientist Career Award: Dr. Vladimir Hachinksi, Scientist
Innovation Award: Dr. Richard Kim, Scientist 
Dr. Joseph Gilbert Research Contribution of the Year Award: Dr. Amit Garg, Scientist, "Gestational Hypertension and Preeclampsia in Living Kidney Donors," New England Journal of Medicine
Staff Award of Excellence: Bonita Stevenson, Administration and Finance Coordinator, ARGC 
Leadership Award: Matthew Meyer, Trainee
Industry Partner of the Year Award: Novare Pharmaceuticals
Community Partner of the Year Award: Kirk Baines, Gerald C. Baines Centre for Translational Cancer Research
"Over the past thirty years Lawson has grown to be the eighth largest institute in Canada with our personnel embedded across London in every hospital location, and in close proximity to our patients and residents, allowing for the translation of research and innovation into care faster and more effectively," Dr. David Hill, Scientific Director, Lawson says. "The Lawson Impact Awards are a chance for us to collectively celebrate our extraordinary people and partnerships, and to take pride in the innovative work that is happening."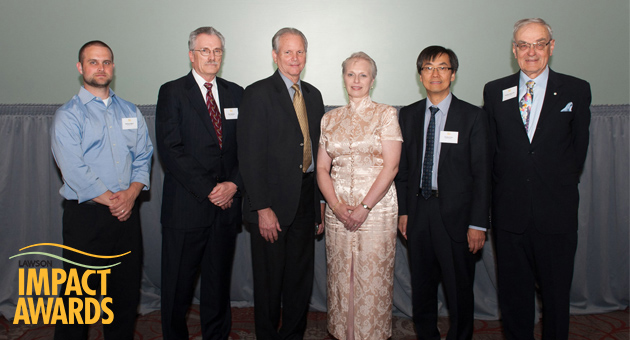 From left to right: Matthew Meyer, Ken Narducy, COO Navare Pharmaceuticals, Mike Delmage, CEO, Novare Pharmaceuticals, Bonita Stevenson, Dr. Richard Kim and Dr. Vladimir Hachinksi.. Absent: Dr. Amit Garg and Kirk Baines.