Lawson's Dr. Gregor Reid studying potential benefits of enriched yogurt in Africa
May 17, 2012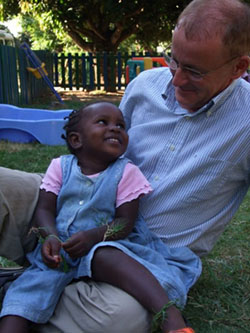 Lawson Health Research Institute announced on May 11 that it is a Grand Challenges Explorations winner, an initiative funded by the Bill & Melinda Gates Foundation. Dr. Gregor Reid and his team are the first London, Ontario-based researchers to receive funding from the Gates Foundation.
The research project will study the impact of probiotic yogurt mixed with the nutrient rich plant called Moringa on the health outcomes of pregnant women and their children. Dr. Reid's work focuses on the benefits of bacteria in promoting nutrition and disease prevention. This study will investigate if those benefits can pass from mothers to their children. It will be based out of a newly-opened yogurt kitchen in Mwanza, Tanzania and will be part of the Western Heads East program.
"A lot of what happens later in life is impacted by the first thousand days – the nine months of pregnancy and the first two years after birth," says Dr. Reid. "Much of the work of Gates Foundation is focused on that period of life, so it was a natural fit. We're thrilled to be working with them."
Dr. Reid is Assistant Director at Lawson Health Research Institute, Director of the Canadian Research & Development Centre for Probiotics at Lawson, and a professor of Microbiology & Immunology and Surgery at the Schulich School of Medicine & Dentistry at Western University.
Grand Challenges Explorations funds individuals worldwide to explore ideas that can break the mold in how we solve persistent global health and development challenges. Dr. Reid's project is one of over 100 Grand Challenges Explorations Round 8 grants announced by the Bill & Melinda Gates Foundation.
"Grand Challenges Explorations encourages individuals worldwide to expand the pipeline of ideas where creative, unorthodox thinking is most urgently needed," said Chris Wilson, director of Global Health Discovery and Translational Sciences at the Bill & Melinda Gates Foundation. "We're excited to provide additional funding for select grantees so that they can continue to advance their idea towards global impact."
To receive funding, Dr. Reid and other Grand Challenges Explorations Round 8 winners demonstrated in a two-page online application a bold idea in one of five critical global heath and development topic areas that included agriculture development, immunization and nutrition.