October 22, 2014
Sean Gill, PhD, has been described by colleagues as a rising star within the extracellular matrix, metalloproteinase, and lung biology communities. The American Society for Matrix Biology (ASMB) agrees, and has awarded Gill the 2014 ASMB Junior Investigator Award. This award is presented to a newly established, independent investigator who has already made a high-impact finding (or findings) and who shows much promise for continued accomplishments.
Gill is encouraged by the recognition, "To be selected as the recipient of the ASMB Junior Investigator Award by this distinguished group of scientists is a great honour. Furthermore, this acknowledgement provides a sense of encouragement and support for both my past studies as well as the research that is ongoing in my lab."
Gill is a Lawson Health Research Institute scientist and assistant professor at Western University. Gill completed undergraduate, doctoral studies and post-doctoral fellowship work on lung development at Western. In 2006, Gill began work on a post-doctoral fellowship focused on lung injury and inflammation at the University of Washington (UW).
Lung injury is often made worse by out-of-control inflammation. While the right amount of inflammation protects the lungs from infection and helps with proper healing, excess inflammation can have severe consequences. These severe consequences can include death, but can also include chronically decreased lung function in patients, which leads to a decreased quality of life. One type of inflammatory cell, the macrophage, is known to be responsible for starting and stopping inflammation following injury.
Gill's interest is in understanding how the macrophage stops inflammation following lung injury and specifically, what factors control how this cell functions. A group of enzymes, called metalloproteinases, and their inhibitors, called tissue inhibitors of metalloproteinases (TIMPs), are thought to be important regulators of macrophage function, and are the focus of Gill's research. This work is important because by the time most patients are diagnosed with acute lung injury, they already have inflammation present in their lungs. These studies will help to understand how inflammation is regulated and turned off following acute lung injury and may provide information regarding possible therapeutic targets. These targets could potentially decrease mortality resulting from lung injury, and could also decrease the damage that occurs as a result of excessive inflammation improving recovery time and quality of life of patients.
During his five years at UW, Gill worked in the lab of Dr. William Parks, who was impressed with the initiative, curiosity, and collaborative nature of the young investigator. This led to Parks nominating Gill for the ASMB honour. As an awardee, Gill has been invited to present his research in October at the 2014 ASMB Biennial Meeting in Cleveland, Ohio.
"Our current focus is the expansion of our studies to include work with human cells and tissues. This would enable us to further examine the therapeutic potential of TIMPs in the setting of lung injury, which is the ultimate goal of our research," explains Gill.
Gill is thankful to the members of his lab, both past and present, for their hard work as well as his collaborators for their ongoing support and help getting his lab set up and running quickly.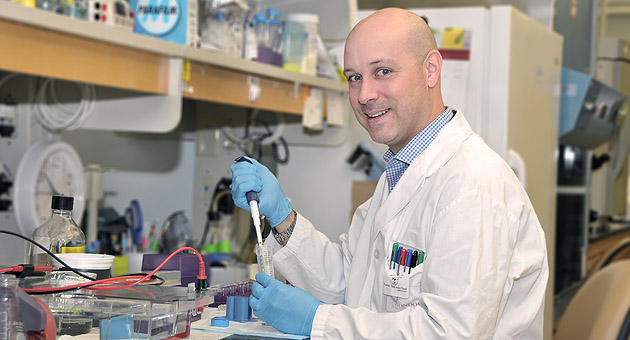 Sean Gill of Lawson wins the 2014 ASMB Junior Investigator Award.