October 9, 2013
It has been said that a great leader knows how to listen, and that's exactly what Sandy Jansen does best.  When presented with a challenge, she reaches out to her staff on the frontline to come to a solution that works best for everyone. 
The director of Pharmacy Services at London Health Sciences Centre (LHSC), Jansen is responsible for 270 pharmacy staff who dispense two million inpatient medication orders a year, including five million unit doses of pills, 18,000 Total Parenteral Nutrition (TPN) bags, 15,000 chemotherapy drugs and 600,000 IV drugs.  Like most fast-paced hospital departments, accuracy and efficiency are imperative to a safe and effective pharmacy.  Jansen is committed to ensuring a smooth operation and finds it beneficial going right to the source for information on gaps and successes.
"I want to empower our staff as much as possible because I know I don't have all the answers and they do!" says Jansen.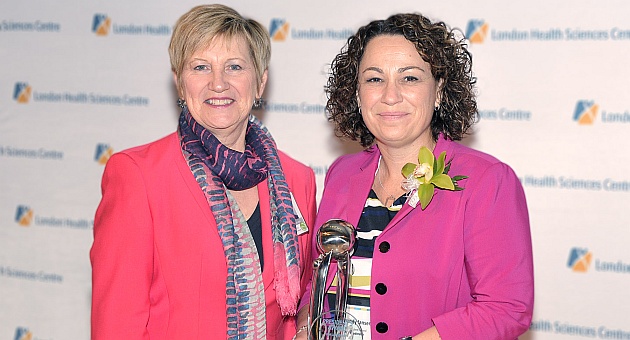 Sandy Jansen, director of Pharmacy Services, receives her President's Award for Leadership from LHSC President and CEO Bonnie Adamson
Jansen began her career at LHSC in an integrated role with St. Joseph's Health Care as the director of Clinical Informatics.  When she came to pharmacy as director in June 2011, Jansen discovered that many of the members of the pharmacy team were struggling with how to deal with increasing workload and a tremendous amount of change associated with program transfers, the introduction of new technologies, and new regulation requirements of Pharmacy Technicians.  Jansen developed the PharmSEE (Staff Engagement and Empowerment) program to open up a dialogue for staff to share their ideas about the culture they wanted to achieve and what behaviours would help reach that goal.  Pharmacy Manager, Ambulatory Services Ally Dhalla says staff have embraced the new culture and are beginning to see a positive change in Pharmacy Services.
Another important aspect of leaders is to help identify and develop future leaders. Jansen says she enjoys guiding employees interested in leadership to find their path, particularly in pharmacy where there is a shortage of leaders across the country.   Pharmacy Manager, Inpatient Pharmacy Services, University Hospital Nadia Facca says Jansen has enabled staff members who are interested in building their careers to capitalize on opportunities to gain further experience in the workplace.
Jansen is the 2013 recipient of the President's Award for Leadership.  In her nomination package, her peers describe how her devotion to assisting emerging leaders, supporting her staff and championing effective patient care makes her an excellent candidate.  While she describes the award as one of the greatest things to happen to her professionally, she is also overwhelmed and humbled because of the many great leaders at LHSC. 
"It was so awesome to be recognized by the organization. At the same time it was humbling because there are so many great leaders at LHSC in formal and informal leadership roles."
Jansen works with a number of other leaders and credits establishing good working relationships as an aid to her success.  If an issue arises within her department or cross-departmentally, she can pick up the phone and reach out to colleagues to discuss the best solution for all involved.
Jansen sees leadership as a gift and a privilege. She loves her job, and enjoys the diversity of challenges that come with each new day. 
"I do believe as a leader that I'm here to serve our staff, and our patients. My job is to take away the barriers so that Pharmacy staff can do their do their job and provide the very best pharmacy services to our customers." 
One thing Jansen loves about LHSC is hearing stories of the patients who are helped every single day and all the research firsts that make LHSC a leading innovator.  Her aim is to make sure pharmacy plays a key role enabling staff in other departments to provide the best patient care possible.