Prevention of Nosocomial Infection in the Neonate; Targeting Central Venous Catheter Bloodstream Infection (CVC-BSI) in the Neonatal Intensive Care Unit - Children's Care
April 30, 2012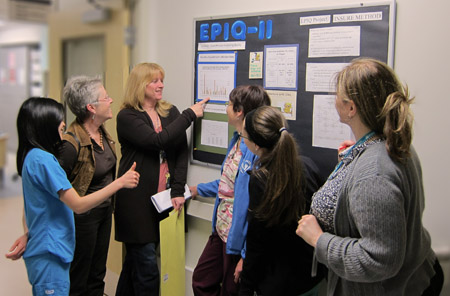 Infection control practitioner Elaine Steinsland reviews the monthly infection rate data with unit staff.
This is the fourth in a series of articles that will take a closer look at each of the Leading Practices submitted by LHSC that were recently accepted by Accreditation Canada.
Accreditation Canada defines a Leading Practice as "a noteworthy practice carried out by a health service organization which demonstrates innovation and creativity, and has a positive impact on services or outcomes for clients and families".
Neonatal intensive care units provide care for premature infants and critically ill newborns. This population is particularly at risk for infection due to their immature immune systems, contact with multiple health care providers and exposure to invasive procedures. One identified risk for infection is the use of central venous catheters (CVCs), which are often required by neonates for the provision of medication and nutritional support.
Central venous catheters are associated with a greater risk of blood stream infections (BSIs) than other types of intravenous lines. For the tiny babies in the NICU, a CVC-BSI impacts the use of additional therapies and resources, prolongs their hospital stay and increases the rates of infant illness and mortality.
To reduce the risk of CVC-BSIs in this vulnerable population, the NICU undertook a team approach to practice change which resulted in the implementation of quality improvement activities targeting insertion and maintenance care of CVCs.
"Our practice change was the result of a strong multidisciplinary team effort," says Donna Pletsch, clinical educator at LHSC's neonatal intensive care unit. "With our nurses leading the change, we had the full support of our physicians and leaders at each stage of the process – from looking at the literature and finding ways to apply it to practice in our environment, through to measuring our outcomes and evaluating them against our goal of continuous improvement."
The series of quality improvement activities are divided among the two "care bundles" – insertion and maintenance. Each bundle contains a number of components, such as standardization of catheter insertion technique, formation of a dedicated CVC insertion team, daily site monitoring, and monthly tracking of CVC-BSI rates, which when combined help to reduce or aim to eliminate CVC-BSI rates.
This Leading Practice has helped the NICU reduce CVC-BSI rates below the National Healthcare Safety Network (NHSN) benchmark levels. In fact, over the last year, surveillance of CVC-BSIs revealed six infection-free months.
For registered nurse, Susan Bester, the recognition of the unit's work as a Leading Practice by Accreditation Canada was extremely rewarding. "It really validates what we do on a daily basis in order to better the lives of our infants."
Even with the success to date, the team at LHSC remains committed to further improving the practice. Future planned activities include adding disinfection caps to IV access ports, daily discussion of CVC necessity, introducing CVC insertion checklists, practice compliance audits, revising CVC dressing care, root-cause analysis of BSI data and continuing education.
Bester notes that, "process improvements are important, but what makes them meaningful is sustainability. We have a series of checks and balances built into our processes so that we are constantly evaluating our outcomes and finding new opportunities to improve our practices."
Pletsch adds that, "We're also part of a tremendous Canada-wide network called EPIQ, Evidence-based Practice Improving Quality, which allows us to share our own successes as well as learn from the successes shared by our peers."