May 9, 2012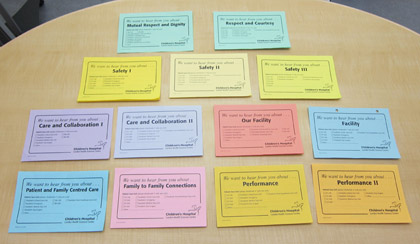 This is the fifth in a series of articles that will take a closer look at each of the six Leading Practices submitted by LHSC that were recently accepted by Accreditation Canada.
Accreditation Canada defines a Leading Practice as "a noteworthy practice carried out by a health service organization which demonstrates innovation and creativity, and has a positive impact on services or outcomes for clients and families". This is the fifth in a series of articles that will take a closer look at each of the six Leading Practices submitted by LHSC that were recently accepted by Accreditation Canada.  
Family centred care is an approach to children's health that respects the central role that family plays in a child's wellness. It encourages families to be active partners on their child's health care team. 
In their ongoing commitment to providing exceptional care experiences, the Children's Hospital team at London Health Sciences Centre decided to implement a more accessible system for collecting and responding to family feedback across its eight paediatric units. A key aspect of this system was the introduction of the family feedback card program.
"The original idea to place postcards on each of the paediatric units came forward from a discussion with our family advisory council," says Lisa Hawthornthwaite, Family Centred Care Specialist at LHSC. "They really emphasized that families facing the stress of having a sick child need a quick and easy way to tell us about their care experiences."
In the first two years of the program, the cards contained open-ended questions, such as what went well and what didn't go well. This provided a broad overview of experiences across all eight paediatric units and a quality baseline to work from. From there, the Family Centred Care Committee worked with Jennifer McCallum, LHSC's Quality Specialist to frame more specific questions around the core-concepts of family centred care behaviours such as sharing information,  collaboration, communication, family friendly and healing facility, patient safety, respect and courtesy. Today's Leading Practice includes the provision of these more specifically framed feedback cards to patients and families. Each quarter, the cards are refreshed to address a different concept.
"We regularly review the feedback and will bring forward any concerns that require immediate action with the appropriate leader," says Hawthornthwaite. "Additionally, we compile all of the feedback we've received over the quarter and create a report that is shared with our family advisory council, quality council, unit councils and leaders who will then share the results with their staff."
Feedback received through the program provides information that allows a unit to focus initiatives in a manner that will help them to deliver the highest quality care possible. It also identifies the broader areas of information that families need most, which has already resulted in the delivery of more useful content in LHSC's family handbook and the introduction of a more advantageous format for the parent hour.
"The information that we've been able to gather through this program has been invaluable," says Hawthornthwaite. "Not only does it allow leaders to address concerns with parents and families in a timelier manner than some of our other more traditional forms of feedback, it's also helped us to pinpoint where there are gaps in the information that we provide to families; allowing us to fill in those blanks and improve the overall hospital experience for parents."
To date, the feedback on the cards has been largely positive. In fact, they've become a source of recognition and gratitude for the staff providing care on the units.
While staff recognition has been a terrific bonus, Hawthornthwaite notes that the program has never lost sight of its original intention. "The heart of the program is really about providing patients and families with an easy way to report about their care experiences and give us a way to measure how we are doing as well as identify what we can do to improve our own programs and practices."