April 19, 2012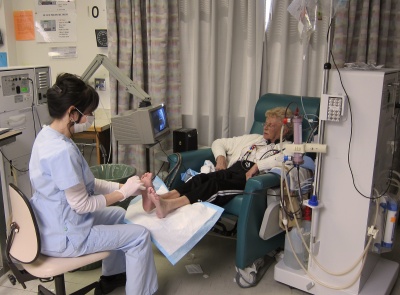 Hemodialysis patient Loretta May has her feet assessed by registered nurse, Cathy Proulx

This is the third in a series of articles that will take a closer look at each of the Leading Practices submitted by LHSC that were recently accepted by Accreditation Canada.
Accreditation Canada defines a Leading Practice as "a noteworthy practice carried out by a health service organization which demonstrates innovation and creativity, and has a positive impact on services or outcomes for clients and families".
Individuals with chronic kidney disease are at higher risk than the general population for foot problems, such as ulcers, deformities and amputations and these problems can contribute to a higher mortality rate among patients on hemodialysis. Research demonstrates that assessment, active monitoring, teaching and timely interventions can reduce the number and severity of lower limb amputations in the dialysis population.
To learn more about its own patient population, London Health Sciences Centre's renal team conducted a formal assessment of the risk factors which predisposed individuals to foot problems. The results confirmed the high presence of diabetes, peripheral vascular disease, neuropathy and previous amputation among those receiving care at LHSC's in-centre units. The assessment also uncovered unexpected findings, including the fact that very few patients were able to demonstrate comprehensive self-care behaviour and many also lacked the physical ability to care for their feet properly.
With the research and findings from their own assessment in mind, nursing staff from LHSC's renal team leveraged an existing best practice guideline that was specific to foot ulcers in people with diabetes to create a broader program that could be applied to all hemodialysis patients who are at risk for foot complications. The program encourages self-management around the care of high-risk feet and promptly identifies problems providing a timelier referral to the appropriate services in the patient's local community.
"The foot assessment program was really the result of a nurse-driven effort to reduce foot complications among patients receiving hemodialysis," says Barb Wilson, nurse practitioner with LHSC's renal program. "The team developed the program with the Registered Nurses Association of Ontario's best practice guidelines in mind and after seeing benefits in our three in-hospital units, extended the program to our nine regional centres through the help of nurse champions."
Supporting a proactive approach to managing foot problems in a high-risk population, the evidence-based Leading Practice includes monthly foot assessments for patients deemed high-risk and annual foot assessments for those deemed low-risk, as well as education to patients and families on how to care for their feet and reduce risk for developing complications.
Nurse champions within each unit are responsible for ensuring the integrity of the program, by training of fellow nursing staff and educating patients on the importance of foot health. Among the champions is registered nurse Cathy Proulx.
"I've been fortunate to see firsthand the many benefits the program brings to patients," says Proulx. "Not only are patients more participative in the treatment of their illness through self-care, they really appreciate and understand the importance of carefully monitoring their feet. Through this program we're not just reducing the number of lower limb amputations, we're maintaining the health of our patients, which is a key factor in keeping them out of the hospital and at home in their communities."
 The Leading Practice is currently operational at LHSC's three in-centre hemodialysis units and nine satellite units across the region. Ongoing evaluation of the program helps to ensure that the program continues to prevent foot complications, maintain health and allow patients to receive appropriate care in the communities in which they live.