May 17, 2012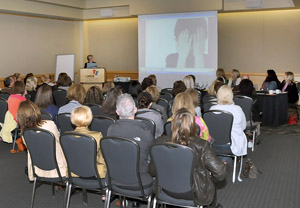 Shantal Feltham, Family Advisor at LHSC shares information about the Family Feedback program with conference participants
Ideas were flowing yesterday as close to 350 healthcare professionals from across the region gathered at the London Convention Centre for the fifth annual LHSC & St. Joseph's Quality and Patient Safety Summit. This year's program had a theme of "Leading the Way in Patient Safety." Participants were challenged at the beginning of the day to identify one or two ideas that may be of benefit in their areas, and begin to investigate with their teams the steps needed to implement those initiatives with a goal of creating a safer environment for patients.
Attendees heard from experts in the area of patient safety including Dr. Patrick Croskerry of Dalhousie University who shared insights into human judgment and bias, and Dr. David Musson of McMaster University who examined what works and what doesn't in team skills training.  Joanna Trimble offered a family perspective to patient safety as she discussed polypharmacy and the elderly, sharing her personal account of watching a loved one's condition deteriorate rapidly due to the over-prescription of medication following a hospital admission.
Afternoon breakout sessions were led by staff from both LHSC and St. Joseph's Health Care London, and covered such topics as: improving medication safety, family feedback, falls prevention and improving communication with patients and families.