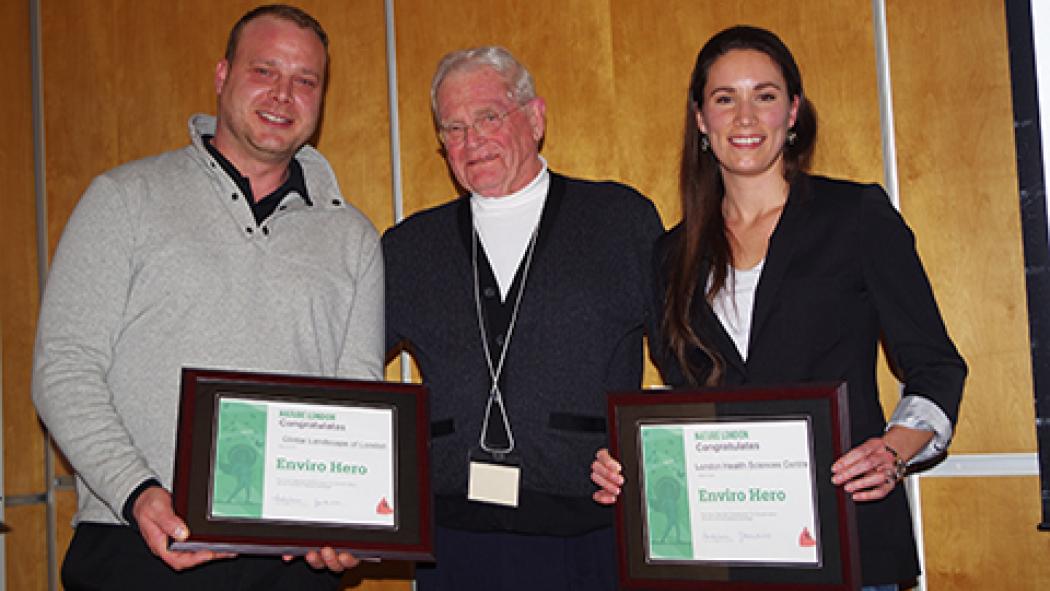 Bill Maddeford (centre) from Nature London is joined by Adam Tyman from Clintar (left) and Danielle Moncion from the Facilities Management department at LHSC (right) at a ceremony to present the organizations with the Enviro Hero Award.
February 7, 2019
At a ceremony on Friday, Jan. 18, London Health Sciences Centre (LHSC) and Clintar, the hospital's landscape partner, were presented with an Enviro Hero Award from Nature London in recognition of the work both organizations undertook to preserve and protect the eastern meadowlarks nesting grounds at Westminster Ponds. The award acknowledges individuals or organizations that have made a contribution to conservation in the community.
Two years ago Bill Maddeford, a member of Nature London's Conservation Action Committee, observed that eastern meadowlarks were nesting on an area of Westminster Ponds. Concerned that landscaping in the area would hinder the process, members of the Conservation Action Committee approached LHSC and Clintar to request that landscaping work be halted until after the spring nesting season. In addition to ceasing landscaping work, LHSC and Clintar installed educational signs provided by Nature London to explain the site's importance and to encourage visitors to help ensure the integrity of the environmentally significant area.
Nature London continued to monitor the nesting area and observed young meadowlarks, as well as other threatened species including barn swallows, chimney swifts, and monarch butterflies. Since the area was left untouched, many wildflowers had also grown in, attracting insects that provide food for birds and butterflies.
"The Conservation Action Committee of Nature London is pleased to recognize LHSC and Clintar as Enviro Heroes," said Maddeford. "With areas of undisturbed grassland declining in the province, the decision to provide habitat for these grassland birds during the nesting season is essential."
LHSC was pleased to partner with Clintar on this initiative, and both organizations are humbled by the recognition of this award. "We are committed to remaining key partners in supporting a healthy community, and we recognize that ensuring the safety of threatened species on LHSC property is an important part of this promise," says Derek Lall, Director of Facilities Management at LHSC.