September 6, 2012
Thanks to Home First – a collaborative program of the South West Community Care Access Centre (CCAC) and London Health Sciences Centre (LHSC), together with the South West Local Health Integration Network (South West LHIN), many more hospitalized seniors and adults with complex needs can return home rather than being discharged to long-term care (LTC).
Home First is a province-wide priority established by the LHINs to bring system partners together. Home First promotes a cultural shift towards proactive discharge planning with home as the primary discharge destination. Working together, patients, family members, physicians, hospital staff and the CCAC case manager can develop a care plan that best suits the patient's needs in the home, and in many cases, prevent the need for transition to long term care.
At the age of 67, Moira Beaune knows first-hand the benefits of Home First. Diagnosed years ago with both Cystic Fibrosis and Muscular Dystrophy, Beaune and her husband, Larry were able to manage her health until she fell in her apartment and acquired pneumonia. She was admitted to LHSC.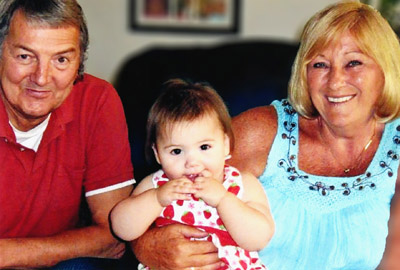 Patient Moira Beaune (pictured with husband Larry and granddaughter Katelyn) returns home to recover after a hospital stay, instead of a nursing home, thanks to Home First a collaborative program of the South West Community Care Access Centre (CCAC) and London Health Sciences Centre (LHSC), together with the South West Local Health Integration Network (South West LHIN).
As a result of the Home First approach and additional services from the CCAC and community partners, Beaune was able to return home from hospital to her husband and their dog Sandy. Managing her care at home has become more complex, as Beaune now requires a portable ventilator and additional home care services. Happy to be home, Beaune has resumed some of her activities, seeing friends, reading and even getting out for the occasional drive. "Being at home with my husband, and all the things that are familiar to me, well, it makes all the difference," says Beaune, as she considers her future. The Beaune's have realized that long-term care is not necessary right now, but they do need more support to remain independent.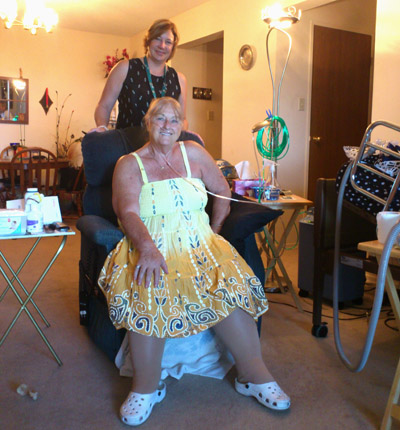 Moria Beaune is seen four times a day by personal support workers at home, thanks to the Home First program.
Too often, decisions by hospitalized patients about their care beyond the hospital are made in a time of crisis, anxiety and stress. Home First enables them to make decisions in the comfort of their home, including whether they can remain safely at home or need to consider long-term care. This has the added benefit of minimizing the risk of hospital-acquired infection and functional decline, and also ensures that otherwise occupied acute care hospital beds are available for patients requiring this level of care.
"Many people think they don't have choices when it starts to become a challenge to stay at home – that moving into a long term care or alternative level of care facility is their only option - but that's not necessarily true," says Sandra Coleman, CEO, South West Community Care Access Centre. "The Home First approach connects people to care available through the CCAC and other partners which will help them stay in their own home longer."
Home First is one of many initiatives currently in place at LHSC to further improve patient care needs, infection safety and system-wide bed access.
Says Bonnie Adamson, LHSC President and CEO, "This collaboration is having a tremendous impact for our patients and demonstrates the powerful outcomes that can be achieved when partners in the health system collaborate to achieve better outcomes. In addition, it is creating greater capacity at LHSC to serve those with acute care needs, resulting in improved wait times for patients needing hospital admission."
Home First is particularly important in light of the aging population trend in Canada and escalating health care costs. In addition to the important patient benefits, there are also significant system benefits. A typical patient awaiting long term care placement from the hospital stays an average of 50 days. By reducing or avoiding both hospital admission and long-term care placement, substantial system efficiencies are realized.
"Home First is funded by the South West LHIN and the partnership between the CCAC and LHSC has been a great success," said Michael Barrett, South West LHIN CEO. "Home First demonstrates the benefits we can create by bringing system partners together to implement innovative approaches that result in more patients receiving care in their homes, which is where they want to be, and frees up hospital beds for those who really need them."

Fast Facts: Home First program of LHSC/CCAC (results as of July 30, 2012):

Over 100 Home First patients supported at home instead of remaining in LHSC
20% increase in patient referrals from LHSC to CCAC
40% reduction in ALC patients in hospital beds waiting for long term care, helping to bring occupancy rates down:

Reduced emergency department wait times for those needing acute care beds
Reduced emergency department closures to the region (no hospital closures to the region since April).

66% of patients discharged home avoided transition to a long term care home