March 9, 2017

London Health Sciences Centre (LHSC) and The Kidney Foundation of Canada have teamed up during World Kidney Day by setting up an interactive display in Westmount Shopping Centre.
The display is open today, March 9, on the first floor of the mall. Obesity is the theme of World Kidney Day this year and to help promote the importance of an active lifestyle LHSC's Kidney Care Centre (KCC) and the Kidney Foundation of Canada are joined by representatives from City of London and the Middlesex-London Health Unit who are promoting in motion, a community campaign to promote and celebrate healthy and active living. 
"World Kidney Day is an opportunity to raise awareness of kidney disease. This year our focus is on promoting a healthy lifestyle to support kidney wellness" says Terri McCallum, Nurse Case Manager, KCC. "Eating healthy, regular exercise and weight management positively contribute to the health of our kidneys."
LHSC's KCC and The Kidney Foundation of Canada Southwestern Ontario Chapter are located on the second floor of Westmount Shopping Centre.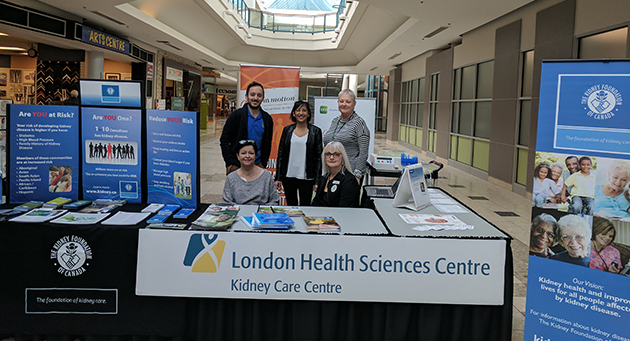 From back left, Jayne Scaterfield, public health nurse, Middlesex-London Health Unit, Bryan Babington, in motion coordinator, City of London, Rizwana Ramzanali, Fund Development Officer, The Kidney Foundation of Canada, and from front left, Emma Klotz, volunteer, patient family advisory council, KCC, and Terri McCallum, nurse case manager, KCC share information about the important of healthy lifestyle during World Kidney Day, March 9.