May 17, 2012
London Health Sciences Centre is pleased to announce this year's winning team for the Bonnie Adamson Quality Award is the "Creating a Culture of Safety" team in the Intensive Care Unit (ICU) at LHSC's University Hospital (UH)
The Bonnie Adamson Quality Award was established in 2001 to honour our former Vice President and Chief Nursing Executive and her focus on providing the highest quality patient care. Now, as President and CEO of LHSC, Bonnie Adamson continues that focus on excellence in quality of care provided to our patients and families.
Earlier this year, staff and physicians from the ICU at UH recently embarked on a "100% in 100 Days" campaign. Their initiative was called "Creating a Culture of Safety" and all physicians and staff from every discipline within the ICU committed to achieving 100 per cent hand hygiene compliance at moments one and four (entering and exiting a patient's room), within 100 days.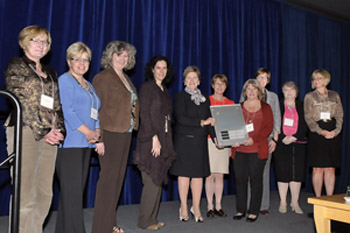 Bonnie Adamson, LHSC President and CEO (fifth from left) and Laurie Gould, Executive Vice President, Patient Centred Care (right), present the "Creating a Culture of Safety" team with their 2012 Bonnie Adamson Quality Award at the annual LHSC & St. Joseph's Patient Safety Summit.
A celebration was held last month to recognize staff for their commitment to the success of the project. This dedicated group achieved their goal of 100% hand hygiene compliance in 100 days, and the winning team was presented their award yesterday at the annual LHSC and St. Joseph's Patient Safety Summit.
"I am extremely honoured to have this award in my name, recognizing the extraordinary people at LHSC who have made an outstanding contribution toward quality, excellence, and innovation in patient care. I would like to congratulate each of this year's 15 nominated teams for their commitment to improving the exceptional experiences we provide for our patients," says Bonnie Adamson, LHSC President and CEO.