December 3, 2014
London Health Sciences Centre has been awarded a 2014 Quality Healthcare Workplace Award – Silver (QHWAs). The QHWAs were launched in 2010 by the Ontario Hospital Association (OHA) and the Ministry of Health and Long-Term Care's HealthForce Ontario. The awards program recognizes organizational efforts to improve health-care workplaces in ways that contribute to providers' quality of work life and the quality of the care and services they deliver.
LHSC became one of 60 recipients of a 2014 Quality Healthcare Workplace Award thanks in part to LHSC's health and wellness programs offered to employees. Employees have access to the Employee Assistance Program (EAP), fitness program, health and wellness learning sessions, and staff support programs for individuals, groups and families. In addition, staff are able to fully contribute their knowledge, skills and abilities in the interest of patients through our Continuous Quality Improvement initiatives.
QHWAs are awarded by a high-caliber adjudication panel of quality workplace experts who complete a rigorous assessment process when reviewing all candidates, which focused on drivers of employee and organizational health.
Vice President, Human Resources and Organization Development, Steve Coulahan says, "Congratulations to everyone at London Health Sciences Centre for this Silver Award achievement. We are pleased to be acknowledged for our commitment to ensuring a quality health-care workplace."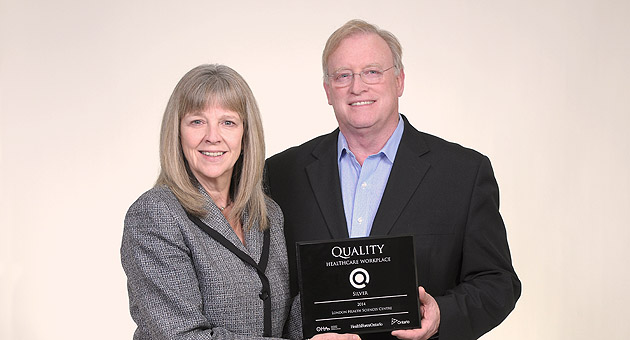 Steve Coulahan, Vice President, Human Resources and Organizational Development, and Beth Mitchell, Director, Cultural Transformation, pose with LHSC's 2014 Quality Healthcare Workplace Award – Silver.