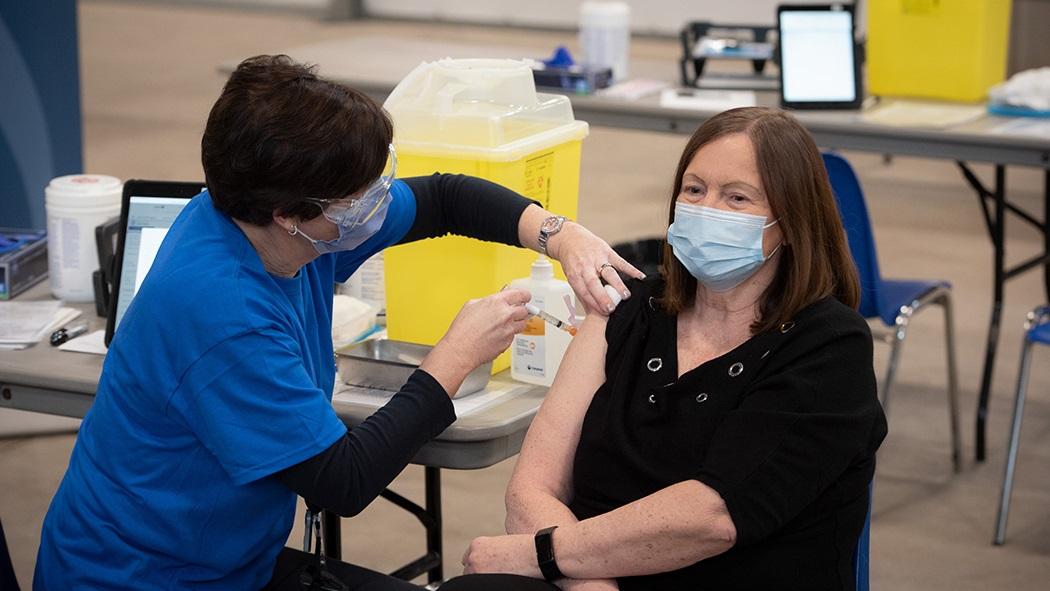 Today, London Health Sciences Centre in partnership with Middlesex London Health Unit administered the first COVID-19 vaccine in our region. This historic event signals a positive turning point in the global pandemic.
The first vaccine recipient was Karen Dann, a long-term care home worker at Country Terrace, that has managed several COVID-19 outbreaks.
"I'm very excited to receive the vaccine. This is a game changer for us in health care," said Dann immediately after receiving her vaccine. "We have had a battle with COVID-19. We had armour, but we needed a weapon and now we do. This is a momentous occasion, and I encourage every health-care worker to get this vaccine when they can."
Health-care workers in local long-term care and retirement homes along with selected hospital staff will be the first in the region to receive the new COVID-19 vaccine at the Western Fair District Agriplex, the same location as LHSC's COVID-19 Field Hospital.
"This is an important milestone in our pandemic response and LHSC is delighted to play a role in this historic vaccination program. It is a true partnership which will include a strong commitment from other areas of the health system including primary care physicians, and will grow as more vaccines come available and this transforms into a mass vaccination program," says Neil Johnson, Executive VP and Chief Operating Officer of London Health Sciences Centre.
It is encouraging that our region is now able to begin vaccinating certain populations, but it remains essential that our community continues to follow all public health measures: wear a mask, maintain physical distancing, wash your hands frequently, and limit contact to people within your own household. This virus continues to spread in our community and these public health guidelines remain critical to ensuring the hospital can maintain capacity to care for those who need it.
The provincial vaccination program at the Western Fair District Agriplex is for health-care workers with pre-booked vaccine appointments only. Unfortunately, no walk-ins are being accommodated at this time. Only priority groups established by the Ministry of Health are receiving the early vaccine doses. At an unknown later time, this will be expanded by the province. To learn more about eligibility criteria, please visit: https://covid-19.ontario.ca/covid-19-vaccines-ontario. If you have any questions, please contact the Ministry of Health