September 21, 2012
LHSC cardiologists Dr. Lorne Gula and Dr. Jaimie Manlucu became the first in Canada to use a pressure sensing catheter to perform a pulmonary vein ablation for atrial fibrillation on August 22.
"There is a sensor in the tip of the catheter that allows us to monitor the pressure we apply to the wall of the heart," says Dr. Gula. "This feedback sensor helps us make effective permanent ablation lesions intended to eliminate atrial fibrillation."
During a pulmonary vein ablation the physician eliminates abnormal heart tissue that causes the electrical system of the heart to "short-circuit" causing irregular heart rhythm. The goal of the procedure is to ensure that the abnormal heart tissue is permanently eliminated, but that may not be the case if too little pressure is applied.
"Currently 80 per cent of ablation procedures for atrial fibrillation are successful," says Dr. Manlucu. "We are hoping this new catheter helps further increase the success rate."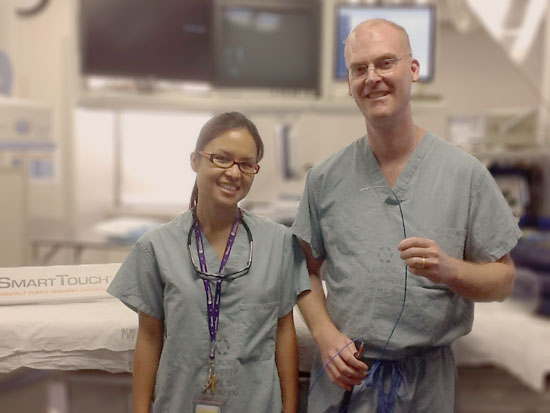 From left, Cardiologists Dr. Jaimie Manlucu and Dr. Lorne Gula display the pressure sensing catheter used for the first time in Canada to perform a pulmonary vein ablation for atrial fibrillation.
The cardiologists knew immediately that the veins were electrically isolated after completing the first cases using the new pressure sensing catheter, but monitoring for further atrial fibrillation continues following an ablation and patients must return for check-ups three, six and 12 months after the procedure.
The Electrophysiology Lab at University Hospital is a high volume centre for ablations – performing 550 procedures a year, with almost a half of those for treatment of atrial fibrillation. The Lab's four cardiologists, Dr. Allan Skanes, Dr. Peter Leong-Sit, Dr. Gula and Dr. Manlucu will continue using the new catheters.