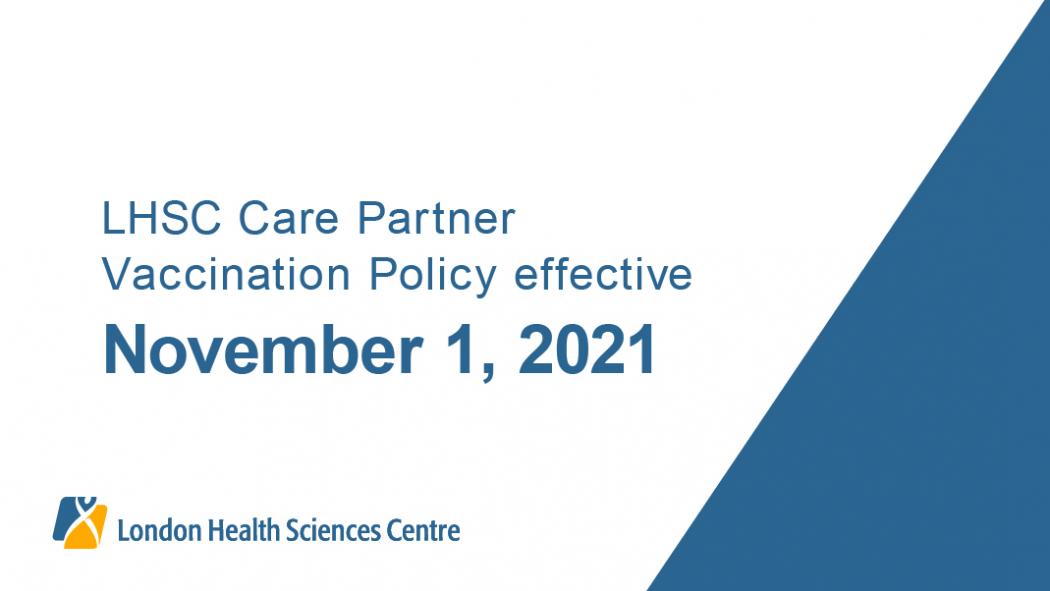 October 25, 2021
In order to provide the safest environment for our patients to receive the care they need, and the safest workplace for our staff and health-care providers, London Health Sciences Centre is moving ahead with a change to our Temporary Care Partner Presence Policy effective November 1, 2021 at 7:00 am. These changes were made in consultation with other regional hospitals and our Patient/Family Advisors.
Beginning on this date, care partners presenting to LHSC will be required to show proof of full vaccination, with limited exceptions (as outlined on our Visitor Policy page) and photo ID. Those without proof of vaccination will not be permitted to enter the hospital.
We understand that limits to visitation are difficult for patients and families. Our top priority is keeping our most vulnerable patients safe, while also addressing patient care backlogs. High volumes and tight space make social distancing very difficult, which is distinctly different than other spaces, such as shopping malls. To provide as much patient care as we can, we have to limit the number of people in our hospitals to those who need to be here the most.
This policy does not apply to patients, and patients will not be denied care. If you need care, please seek it immediately.
Essential care partners, such as individuals supporting patient safety and enabling care in addition to compassionate reasons including laboring women and parents bringing paediatric patients for appointments will not be denied entry based on vaccination status. For more information and a list of exceptions, please see the Visitor Policy page.