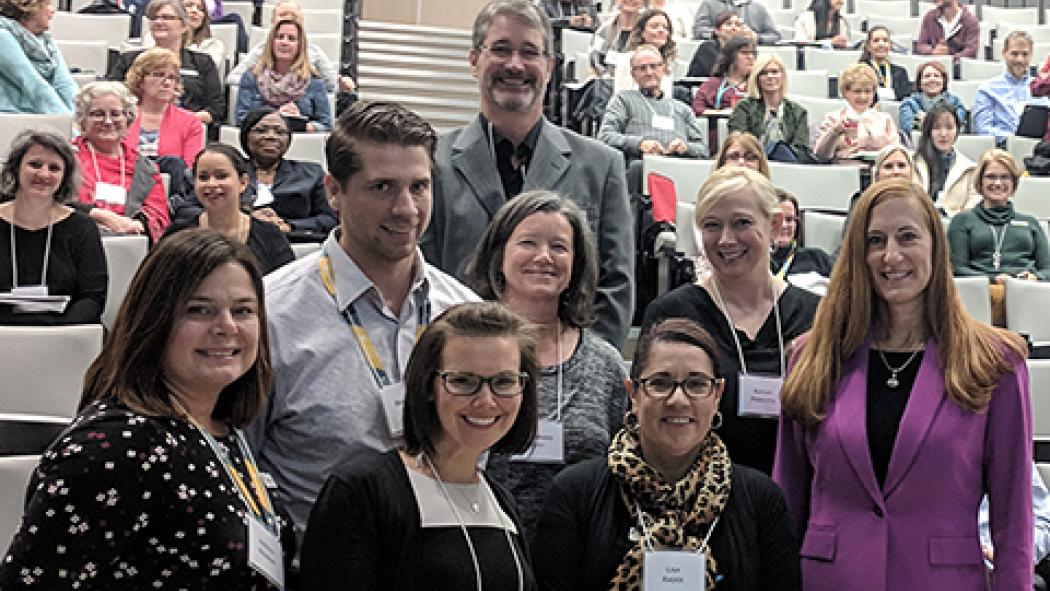 October 30, 2018
Each year the Canadian Patient Safety Institute (CPSI) chooses a week to dedicate as Canadian Patient Safety Week (CPSW). This national campaign is intended to inspire extraordinary improvement in patient safety and for patients and professionals to spread the message to "Ask. Listen. Talk." to create safer healthcare.
The Patient Safety Department at London Health Sciences Centre (LHSC) held a number of events and activities to mark CPSW 2018. Read the descriptions of CPSW events below and view the photos on Facebook.
Patient Safety Conference
Over 100 participants attended this year's Patient Safety Conference: Communication, Collaboration and Compassion: Keeping Patients Safe on October 25. Lynne Sinclair, Physical Therapist, Educational Consultant and the Innovative Program and External Development Lead at the Centre for Interprofessional Education, University of Toronto, was this year's keynote and focused her presentation on teamwork and communication for patient safety. Sessions about cultural competency and quality improvement, as well as a patient experience panel were other highlights of the conference.
Patient Safety Awards
LHSC's annual Patient Safety Awards are an excellent opportunity to showcase the outstanding work that individual staff, leaders, physicians, and teams are championing in the name of patient safety. These individual/teams demonstrate exceptional commitment, leadership, and passion for providing quality evidence-based care.
LHSC President and CEO, Dr. Paul Woods, and Matt Wilson, LHSC Board Member presented the awards. Dr. Ken Leslie Chair/Chief General Surgery joined them to introduce the Leader and Physician awards.
Congratulations to this year's winners:
Individual Award - Angela Andrews, Renal Patient and Family Council Facilitator and Renal Accreditation Lead
Individual Award – Kristen Webb, Clinical Educator, Perioperative Care, Victoria Hospital
Team Award – Department of Dentistry
Leader Award – Dr. Patrick Colquhoun, Surgeon, LHSC
Physician Award – Dr. Luke Hartford, Resident, Surgery, LHSC
Hand Hygiene Station Decorating Contest
A Hand Hygiene Station Decorating Contest was held to highlight the importance of hand hygiene. Seven clinical units at Victoria Hospital and University Hospital participated. Nuclear Medicine at Victoria Hospital, and the Medicine Unit on the fourth floor of University Hospital were announced as the winning areas during the Patient Safety Awards presentation. Both areas will receive coffee and treats for their efforts.
"The decorated hand hygiene station certainly caught the attention of patients, visitors and staff," says Tammy Steele, Clinical Educator, Inpatient Medicine. "More people have certainly been using the station."
A treat for patient safety
Throughout CPSW, the Patient Safety Team, with the help of the Accreditation Specialists, are handing out mini chocolate bars to staff to thank them for their focus and efforts towards patient safety. The chocolate bars have a message of thanks or a patient safety fact attached to the wrapper. The facts are directly tied to the CPSW theme – "Not all meds get along."
CPSW facts about medication prescriptions:
An estimated 37% of seniors in nine provinces received a prescription for a drug that should not be taken by this population.
2 out of 3 Canadians (66%) over the age of 65 take at least 5 different prescription medications – while 27% take at least 10 different prescription medications
In 2016, 1 in 143 Canadian seniors were hospitalized due to harmful effects of their medication