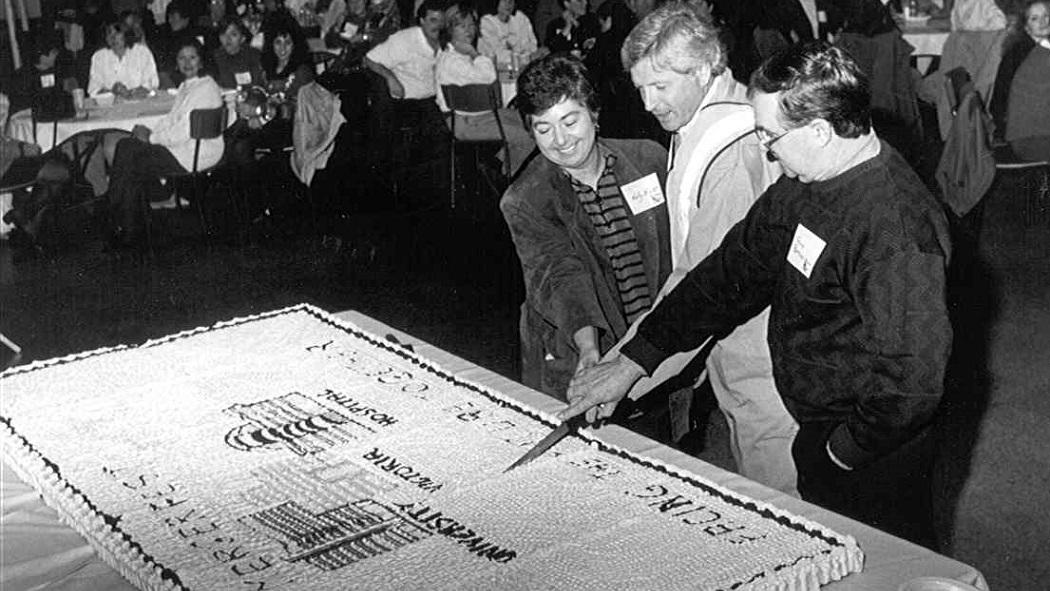 From right, Ross Batson, Chair of University Hospital, Tony Dagnone, LHSC President and CEO, and Kelly Butt, Chair of Victoria Hospital, celebrate by cutting the cake at "Mergerfest" in 1995.
October 6, 2020
London Health Sciences Centre was created in Fall 1995
In 1995, Mariah Carey's song Fantasy was topping the charts, Forrest Gump won the Oscar for Best Picture, and a revolutionary ecommerce platform called eBay was launched. That fall, it was also the year that University Hospital and Victoria Hospital merged, officially creating London Health Sciences Centre (LHSC). At the time it was Canada's largest voluntary hospital merger.

"Working through the many dimensions of the merger reinforced my personal belief that health-care providers represent a 'true calling' aimed at restoring health and saving lives," says Tony Dagnone, LHSC's first President and CEO, who retired in 2005. "The current pandemic has triggered a renewed public appreciation of the value of organizations like LHSC, and especially the people who work there with dedication and compassion.
The merger provided a critical mass of professionals working together to achieve more value for its patients, students, and researchers."
Bringing together nearly 7,500 staff and physicians to serve more than 700,000 patients each year, the merger made LHSC one of the largest teaching hospitals in Ontario and the largest employer in Southwestern Ontario.
Many employees remember the merger as exciting, tense, and ground-breaking.
"It was a time of change that was both exciting and frightening, a time when clinical expertise, resources and care cultures were being examined and facilities were being redesigned," recalls Lina Martins, now a clinical nurse specialist with the Skin, Wound, Ostomy Team and a clinical educator with surgical care in 1995. "It became clear that we were all working together toward a common goal and with each other's support, we were contributing to shaping the future of our new health sciences centre."
Dr. Jamie Gregor, a gastroenterologist, had just finished two consecutive weeks of on-call coverage as part of his new position at Victoria Hospital when the merger was announced.
"I remember the day the merger was announced very well as there was some question about how the changes would play out," Dr. Gregor recalls.
"On the afternoon of the announcement, I handed on-call over to a colleague before my wife and two small children picked me up to head to grandpa's cottage for the weekend. As we drove down the street, breaking news on the radio announced the merger. I wasn't sure whether I would still have a job on Monday, but I was sure I was going to have a beer!"
Cathy Vandersluis, now Vice President of Clinical Programs at LHSC, has spent the entirety of her career at the organization, beginning as an occupational therapist (OT) at University Hospital in 1985.
"The merger is such an integral part of our history, allowing us to develop new models of care that ultimately led to improved care for our patients," says Vandersluis. "I remember there was a big shift at the time—in leadership structure, our logo and name—but my work as a frontline OT providing high-quality care did not change. When I reflect back, putting patients at the centre of everything we do has remained at the heart of LHSC."
Twenty-five years later, LHSC has continued to strengthen its foundations of care, teaching, and research. Affiliated with Western University and other educational institutions, LHSC continues to proudly train the next generation of health-care providers.
Since 1995, LHSC has had 62 notable medical breakthroughs, including several international and national firsts. Its research arm, Lawson Health Research Institute, is one of Canada's top ten health research institutes with London's research hospitals consistently ranked in the top five for Ontario.
Today, LHSC is home to nearly 15,000 staff, physicians, learners, and volunteers, who together provide exceptional experiences for more than one million patient visits each year.
"The people of LHSC have remained the organization's greatest strength and I am equally proud and privileged to work alongside them," says LHSC President and CEO Dr. Paul Woods, who obtained his medical degree at Western's Schulich School of Medicine and Dentistry, learning from some of LHSC's brightest physicians, leaders, and staff.
"This talented, skilled, and dedicated team has consistently remained focused on providing high-quality, compassionate, and patient- and family-centred care, working collaboratively with partners throughout the region to improve patient outcomes and experiences.
"The compassion, teamwork, curiosity, and accountability that our people demonstrate every day as we work together to shape the future of health is what will ensure that LHSC continues to be a leader in care and innovation for the next 25 years and beyond," says Dr. Woods. "I am excited for what lies ahead and look forward to realizing all that we will accomplish together."