Extraordinary People
March 16 , 2012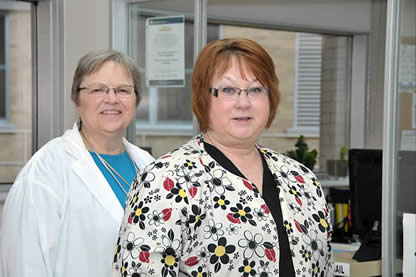 RN Jill Bischop, right, is being recognized as an outstanding nurse by the Grand Theatre's Outstanding Nurse Recognition Program. Linda Bourdeau (left) is one of the nurses who nominated Bischop for the award.
LHSC registered nurse (RN) Jill Bischop will be honoured on stage at the Grand Theatre on Saturday, March 17.
Bischop is being recognized as an outstanding nurse by the Grand Theatre's Outstanding Nurse Recognition Program. This is a peer-to-peer nomination program and the Grand will be celebrating the outstanding work of five nurses.
A full-time nurse in the Post-Anaesthetic Care Unit (PACU) at LHSC's Victoria Hospital, Bischop was nominated for her work as an Ontario Nursing Association (ONA) executive and return-to-work representative, supporting ill, injured and returning nurses at LHSC.
Janice Cleary, a nurse in LHSC's Occupational Health and Safety Services, nominated Bischop.
"Jill puts the needs of others ahead of herself and treats each individual with respect," says Cleary. "She works through many challenges in assisting nurses in their return to work, filing of documentation, facilitation of tests or procedures and easing the transition in the return-to-work process. Jill is an excellent advocate for her patients, co-workers and any other team member who needs assistance."
A graduate of the Kitchener Waterloo School of Nursing, Bischop moved to London in 1978 working first at St. Joseph's Health Care London and then at Victoria Hospital after she chose to follow a transfer to LHSC nine years ago.
When she became involved in the ONA at Victoria Hospital, the union executive identified a need for return-to-work support and approached Bischop. This work is done outside her regular full-time shift in the PACU. In addition to her work with the nurses returning to work, Bischop also conducts workshops for nurses and management to further the understanding of the needs of nurses returning to work and accommodation requirements.
Dr. Vanessa Burkoski, Vice President, Professional Practice & Chief Nursing Executive at LHSC, congratulates Bischop on receiving the Outstanding Nurse Recognition Award.
"I am very proud that one of our exceptional nurses is being honoured and recognized for her work," says Burkoski. "Jill is making a very important and valuable contribution to her nursing colleagues and her profession by educating, advocating and assisting nurses returning to work."
For Bischop, the work is all about collaboration – Human Resources, Occupational Health and Safety Services, WSIB, ONA staff and executive, managers and coworkers.
"I am being recognized but the work is not just done by me," says Bischop. "Without the help and support of my colleagues and leaders, who have supported this work and time out of the PACU, I would never have accomplished the work I do."
The proud mother and mother-in-law of four, and grandmother of three 'cool' grandchildren, Bischop feels humbled by the outstanding nurse recognition.
"I am very grateful to have been given the opportunity to make a difference to our nurses in need."